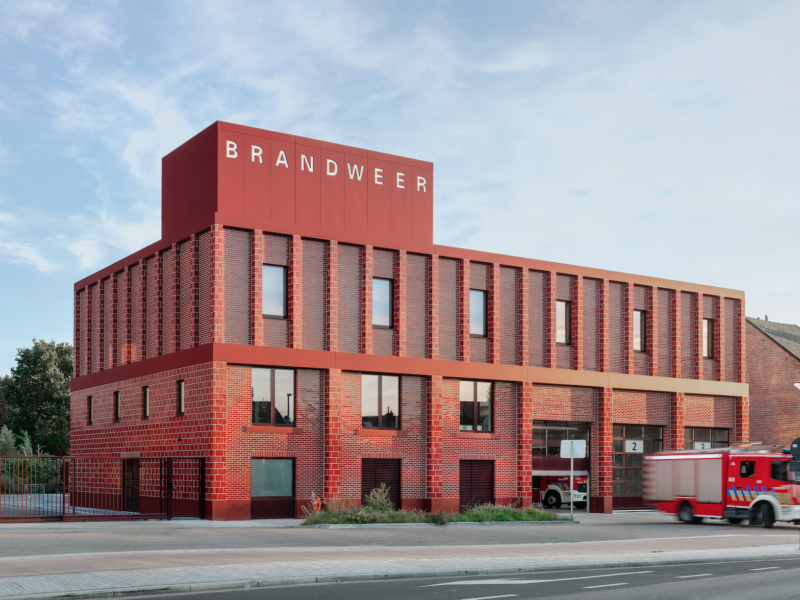 A pleasantly outrageous Fire Station in Belgium and one which is deserving of showcasing as to how colour of glazed clay facing bricks can be used to indicate the functionality of the building itself.
Won in competition by Rotterdam-based practice Happel Cornelisse Verhoeven, Wilrijk Fire Station is located to the south of Antwerp city centre. The three-storey building comprises a double-height concrete garage with a CLT-constructed floor above containing the living areas, kitchen, office and bedrooms. A corner 'tower' houses the plant room, with its street-facing facade incorporating bold, white-painted letters announcing the building's function.
The architect has paid particular attention to the facade tectonics, which are intended to express the typological stacking of the garage, residential floor and tower. The stacking decreases proportionally in height and is emphasised by a setback of 100mm. The pilaster facades are constructed from red glazed bricks in both large and small formats. These are rhythmically interrupted with red-painted cordon bands and dark purple fenestration.
The monochrome character of the facade provides a recognizable identity in the neighbourhood, an 'architecture parlante', in which form and appearance irrevocably remind us of the function of the building and the urgency of its users, suggests the architect. The colour of the bespoke bricks takes its inspiration from an ancient wall, discovered by the architects when in London, which has a dark red sheen. By contrast the interior of the building employs a simple palette of concrete and timber.