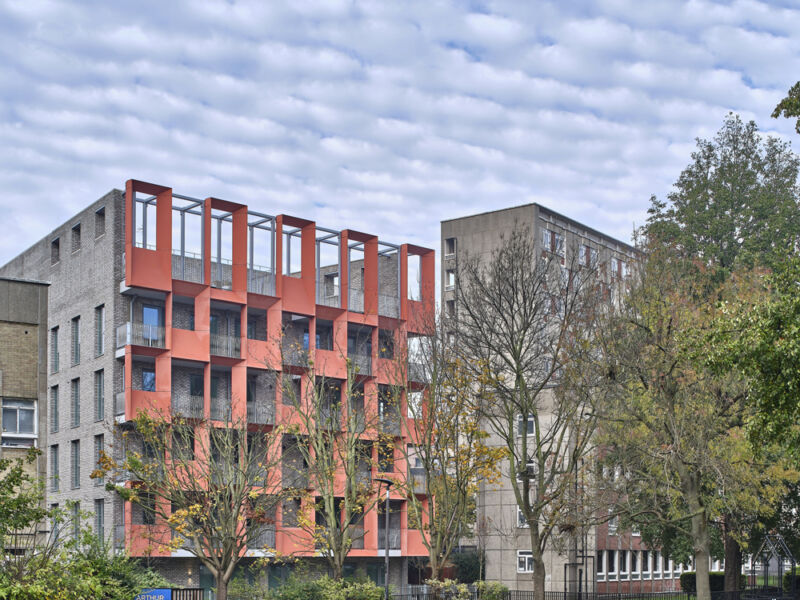 This is the first of three new affordable housing developments designed by Bell Phillips Architects for Tower Hamlets.  We will feature the other two during the summer. The new homes were commissioned directly by the borough council as part of a programme of new housing delivery for local people and combined, will ultimately provide 77 council homes all for affordable rent. To heighten the sense of place, each building takes a unique set of references from its local context.
The first of these developments sits within Bethnal Green's Dorset Estate designed by Lubetkin, Skinner and Bailey between 1951 and 1957.  Here, on Baroness Road, Bell Phillips have revitalised a site formerly occupied by an underused car park. 20 new flats are arranged over 6-storeys and introduce a design language complimentary to the Hackney Road conservation area.
The immediate context varies, with low-rise housing sitting alongside 20-storey housing blocks – all clustered around an urban park directly to the east of the site. Dusty, hot-pink trellised screens on the east and west facades bring vivid colour to the streetscape and reference the facades of George Loveless House and James Hammett House.
Through this inversion of the 1950's design motif, Bell Phillips have avoided visual monotony, which can sometimes result from economical stacked floor plates.
The general east-west distribution of the main living areas minimises privacy issues for existing gardens, while also prioritising key views for the living spaces and balconies. The dual-aspect homes are generously proportioned and designed to provide excellent thermal comfort, ventilation and natural light. Further enhancing the amenity provision, expansive views over the surrounding area are also provided from the communal terrace and play space on the fifth floor which overlooks the public park.
From afar, the metal clad balconies with vertical fins create a strong visual rhythm while echoing the historic infrastructure of beautiful brick and iron rail bridges, faceted brick chimneys and accumulator towers which were prevalent in the area.
The layering of several decades of redevelopment has created a varied mix of housing typologies, with few of the original terraced houses that formerly characterised the area remaining. Into this patchwork neighbourhood, BPA have introduced a low-rise building, sensitive to the local context. Development is concentrated towards the southern edge of the site allowing clear views from most homes over the adjacent canal.