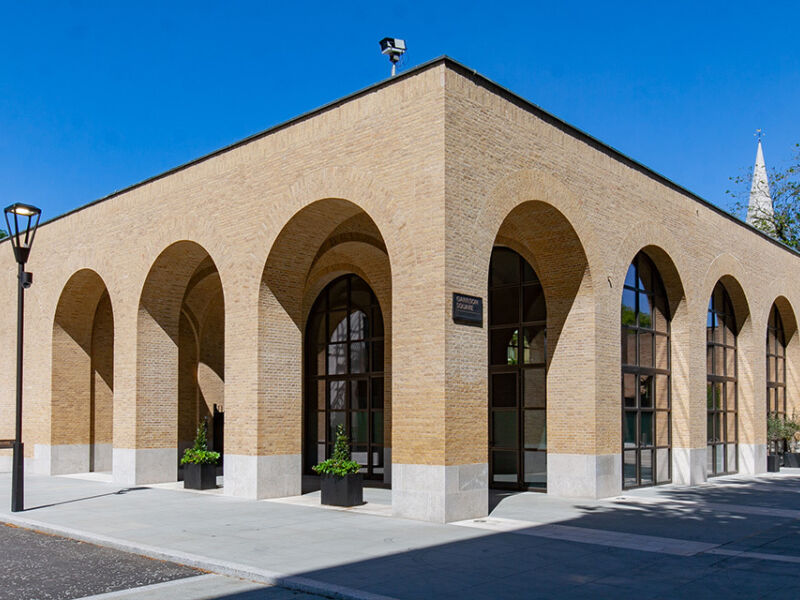 Described as 'London's most coveted neighbourhood' the Chelsea Barracks scheme sets the standard for luxury living in the capital and is some of the most expensive real estate on earth. At the heart of the development, set in new public realm by the historic Garrison Chapel, phase 3a includes a centrepiece restaurant, delicatessen and exclusive mews house.
The concept for the design was created by Ben Pentreath, known for his classical style of architecture, and William Smalley, known for his use of simple, quality materials and his understanding of craft combined with understated luxury. This design was developed by PDP London from Stage 3 to completion with Arup as structural engineers in conjunction with main contractor, Mace, and specialist brickwork sub-contractor, Lesterose.The intersecting cupolas form a classical colonnade which frame views to the chapel and out to one of the newly created garden squares. The Grade II listed chapel provides a link to the past as the former place of worship for the Coldstream Guards who were originally based at the barracks. The chapel is now an Art Gallery and community gathering place. The main public square, Garrison Square, provides a meeting place and heart to the development with al-fresco dining under the colonnade and around the side of the restaurant.
The technical challenge of marrying modern building regulations with the complex hand laid brickwork was a central consideration to the design. An extensive process of detailing the position of each brick in both 65mm for the columns and walls and 50mm in the arches and cupolas was required, an numerous products were assessed before the Cambridgeshire Weathered Buff was chosen.The light tones and rich texture of the Wienerberger brick suit the carefully crafted design perfectly and the matching lime mortar gives a subtle, blended finish to the facades.
The skill involved in traditionally laying to this exacting specification was provided by Lesterose. There are few examples in modern construction of this traditional craft which makes the end result all the more impressive. So much so that Lesterose had to research and design from scratch a method to hand lay to the intricate design. It really is a case of resurrecting a lost craft as pre-cast construction has taken over from the hand laid craftsmanship in recent years.