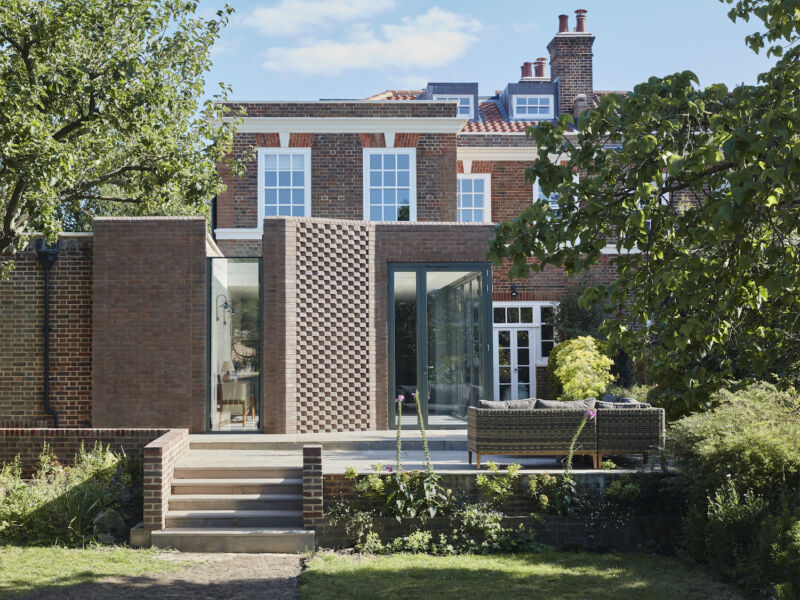 "Little Donyland" is a semi-detached neo-Georgian house on the Dulwich Estate. Built in the 1930's the original interior layout never presented the same grandeur or precision that the exterior displays. A series of badly planned spaces meant a dark interior with long corridors and little views of the surrounding garden meant that the challenge was to unlock the potential of the internal space as well as extend the house to accommodate a new kitchen and dining room and connect the inside of the house to the surrounding garden.
The architect, south London firm, Gruff Architects, stripped the house back and relocated the main staircase and circulation to a central location allowing new connections and original feature windows to be celebrated. The new layout creates compositional views that go across rooms, always leading through light filled spaces and beyond to views of the garden.
A new brickwork extension was created for the kitchen and dining spaces. The brick panels and glazed proportions sit in context with the precise neo-Georgian exterior whilst also presenting a modern application of the traditional material.
The woven brickwork panel section, crafted in collaboration with a team of specialists, using bricks made by Michelmersh, reflects the livelihood of the client who in this case, is a textile designer