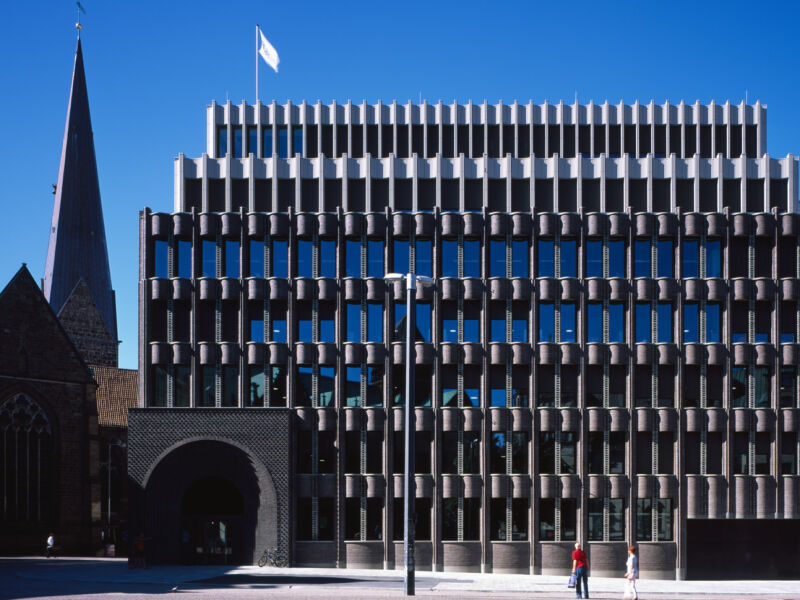 Caruso St John's Bremer Landesbank questions what a bank should look like in the twenty-first century. The new building takes its place in the historic centre of the north German city, adjacent to the cathedral, the town hall and merchants houses along the edge of the flower market, standing "like a city elder, taking its place amongst the other important figures". The brown brick structure is designed as a dignified and reserved intervention, but with "an open and honest face".
The facades of the Landesbank refer to the northern European tradition of expressive brick construction, where dark, hard clinker bricks form piers, buttresses and ornamental friezes, as if dressing the building in a thick masonry skin. The elevations have a vertical, Gothic character, at the same time monolithic and delicate, and refer to the 'Wesserrenaissance' of the town hall and generally to a Hanseatic tradition of quality and reserve. Expressive brick doorways mark the entrances for the clients and the staff. The brick expressionism of the early twentieth century is a clear precedent, notably the work of Fritz Höger, whose Chilehaus in Hamburg was castigated when built by 'modern' architects but is now celebrated as a major building of its time.
The building encloses a large central courtyard intended to convey a simple and generous image to its organisation. All of the offices face either outwards to the city or inwards to the courtyard. Unusually, the central space is not an atrium, but open to the sky with its floor at pavement level. The space acts as a forecourt, and is semi-public, forming an extended threshold to the office entrance. Internal arrangements are very flexible, allowing for the maximum number of individual offices on each floor, each with an opening window. The large staff restaurant and the private client reception rooms of the bank are located on the top floor. From the restaurant, the five hundred staff can enjoy the extraordinary views over the roof of the city.
The dark brick facade, with its diverse arches, lines, columns and cills comprises 65 different brick specials in a tailored mix of special grades. Appropriately, the building was awarded the Grand Prix in the 2017 Fritz Höger Prize.