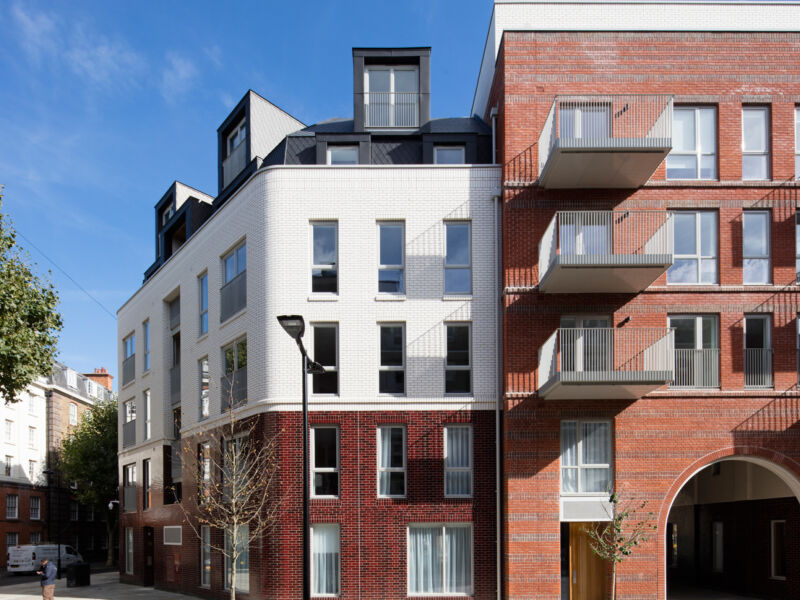 Two brick-built residential buildings by Matthew Lloyd Architects, together with a landscaped court, make a bold yet sympathetic addition to the Bourne Estate, an important early London County Council housing estate, built in 1903 between the jewellery district of Hatton Garden and the legal precincts of Gray's Inn. Sited partly within the Hatton Garden Conservation Area, the project derives from and responds to the character of the original estate buildings. The fine brick detailing is intended to emulate the pride and care shown in the old buildings, while the footprints of the new blocks respond to those of the adjacent buildings to create a rhythm and hierarchy of spaces.
Initiated by Camden Council, the scheme's two blocks accommodate 75 apartments in a mix of tenures, including social rent and private sale, plus a community hall. The project completes the existing urban blocks and creates an open communal courtyard linking a school, the existing estate, and the new homes. Block One replaces a multi-use games area, now relocated, and Block Two replaces a run-down post-war building.
The project is planned so as to create vistas while defining key routes and boundaries. The various entrances to the new blocks ensure there is activity at street level, and in keeping with the original buildings, the design includes secure shared open access balconies, each serving a maximum of three flats, as well as private balconies and gardens.
The brick facades contribute pattern and texture, while the brick arches that open into the courtyards echo those elsewhere on the estate. The rich brick tones and bonds are employed to imbue the various elements of the scheme with character.
As a celebration of brick and local heritage, this scheme will no doubt age gracefully and become home to a diverse community in the tradition of the Bourne Estate.
Matthew Lloyd Architects won the project in a limited competition in 2012 and worked for Camden Council to gain full planning consent. It was subsequently employed directly by contractor Higgins as architect for the construction phase of the £19.5m project.