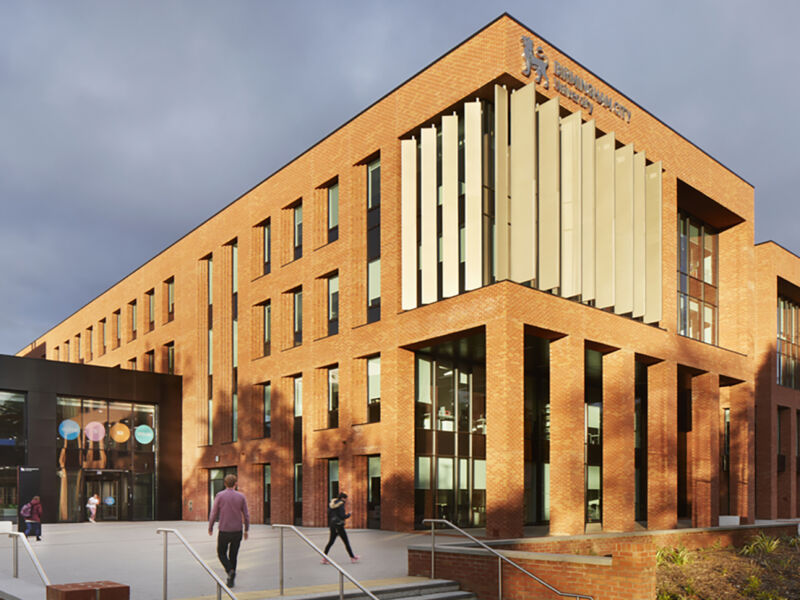 The £41m Faculty of Health, Education & Life Sciences, designed by Sheppard Robson with interior design group ID:SR at Birmingham City University's City South Campus, provides a full range of teaching spaces plus research and product development facilities for local and national businesses. The 10,500-square-metrebuilding, which adjoins the existing campus building housing the university's health and social care courses, has enabled the relocation of the School of Education and Social Work from the university's City North Campus and facilitated the introduction of new courses in sports and life sciences.
The site is located within the Westbourne Road and Edgbaston Conservation Area, a context characterised by brick buildings, so the faculty building's use of brickwork draws on this, as well as the skills of traditional craftsmen. Inside, well-lit atria spaces interlink the new and existing buildings, offering views out over the parkland setting and into the teaching spaces. A central circulation spine runs through the whole development and incorporates a former external courtyard that has been enclosed to provide an IT zone. The rhythm and detailing of the external facade are reflected in the internal design, with timber strips arranged in portal frames to add warmth to the spaces, while alternating areas of glazing provide visual links into the atria from adjacent teaching spaces.
"The tone of brick was used to create a warm, welcoming building that is consistent with the local context", says Sheppard Robson. "We analysed the surrounding conservation area, taking along our selected brick panels and checking them against local buildings and garden walls to find an appropriate tone that would sit comfortably within the Edgbaston Conservation Area."
The detailing of the brickwork played an important role in the ambition to provide a strong contemporary statement that also referenced the traditional craftsmanship and intricate brick detailing found in the area. "Brick is such a versatile material that it allowed us to develop a variety of details and expressions", say the architects. "Using a sand-faced multi-coloured brick with natural variation also added depth and texture across the large expanses of brickwork facade. The brick emphasises the vertical rhythm and softens the edges of the window openings, adding texture to the ground floor to create a striking feature wall around the sports hall."
In addition to general teaching spaces, the new building offers a range of highly specialised facilities, including an environmental chamber, a gait analysis area, nutrition and microbiology labs, a sports lab, physiotherapy and ultrasound suites. The building is also used by sports, nutrition, teacher training, clothing and health companies, including England Rugby Sevens, Sport Birmingham, the NHS, the British Army, the Football Association, Badminton England and Joma Sport. The BREEAM Excellent building accommodates an additional 5,500 staff and students from four schools within the university.