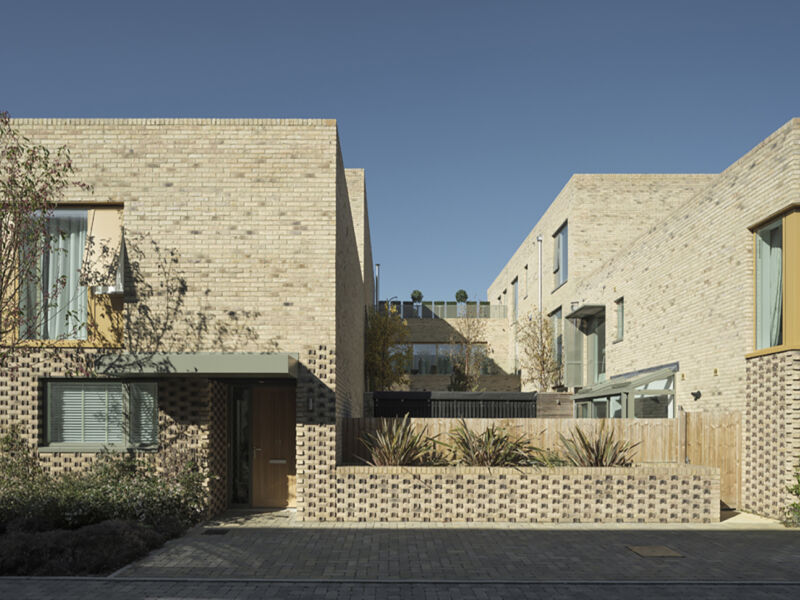 The second phase of Abode, the award-winning residential development on the south side of Cambridge designed by Proctor & Matthews Architects, has been completed. Part of the new village of Great Kneighton, it forms a key component in the planned expansion of the city's southern fringe. Built for residential developer Countryside, the second phase comprises 136 dwellings, bringing the overall neighbourhood to 442 homes.
Abode is a mixed-tenure development with 40 per cent affordable homes, which are allocated tenure-blind to help achieve consistency across the whole quarter. It includes a variety of housing typologies, designed for multi-generational appeal, and conceived to attract a range of buyers from investors to couples and families. Both the masterplan and the detailed design of the dwellings are intended to reflect the public realm and built form of Cambridge's collegiate and urban structure, as well as the surrounding Fenland villages.
'Courtyard' and 'mews' type homes, similar to those that were deemed successful in phase one, feature in phase two. Clusters of different types are combined to achieve an increase in density, but with the aim of not feeling over-developed. A combination of four-bedroom courtyard homes, two-bedroom courtyard mews houses and terraced villas in back-to-back formations results in mixed residential occupancy. And rather than having front and rear gardens, outdoor space is provided by roof terraces at different levels. Towards the country park edge, three large courtyard typologies form two mews streets and a defined edge to the development.
The brick palette of phase two is inspired by the local gault brick, commonplace in Cambridge, and this is offset by timber cladding that refers to the black-stained farm buildings of the surrounding countryside. The combination echoes the design concept of phase one, where 'rural edges' reference the fine grain of local vernacular buildings while the more formally structured areas of the neighbourhood follow the hues and textures found within the urban streets and terraces of central Cambridge.
A motif of textured brickwork – a pattern created by splitting bricks and laying them alternately between regular bricks so as to project and expose the frogs – repeats a technique employed by the renowned Anglo-Swedish architect Ralph Erskine of Erskine Tovatt, with whom Proctor and Matthews worked on the Greenwich Millennium Village project. The treatment helps to visually unify both phases and provides a defining signature for Abode. The textured surfaces, together with the more pronounced panels of projecting brick headers, also help to articulate townscape 'moments' and 'thresholds' within the development.
Andrew Matthews of Proctor and Matthews commented: "Completing such a significant project represents a major milestone for our practice. Phase two establishes the same public realm, landscape and build quality as Phase one and so the entire neighbourhood of Abode hangs together as a coherent piece of residential design. There are very few projects of this nature that deliver such a wide variety of contemporary house types in a way that incites the kind of mixed communities that makes real places."