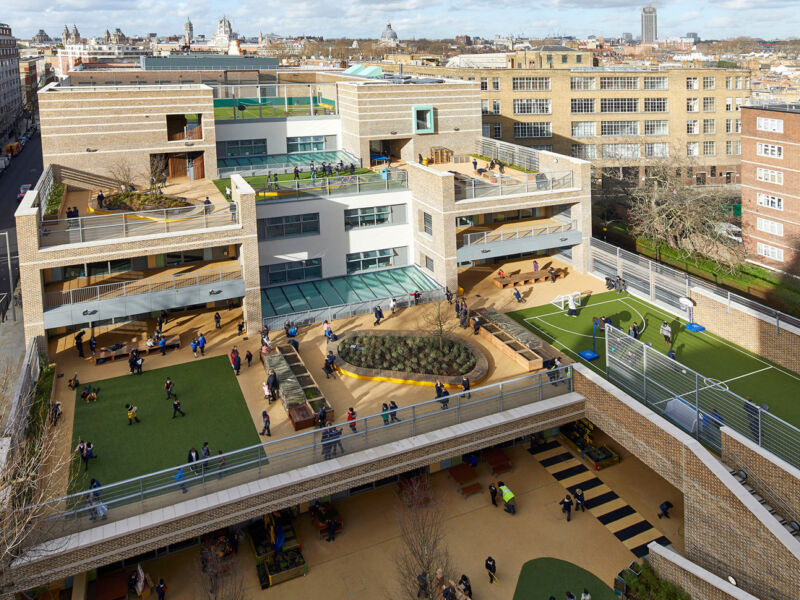 Designed by Dixon Jones, Marlborough Primary School, in the London Borough of Kensington & Chelsea, replaces a Victorian school dating from 1878. As well as an enlarged school with two-form entry and 2,500 square metres of external learning and play areas, the brief called for a new commercial building and a pedestrian route across the site. The key design challenge was achieving this significant increase in density on the confined urban site while creating a suitably civic replacement for the original school.
With a ten-storey apartment block to the east and a five-storey blank party wall to the west, the design evolved with a stepped section and cascading 'garden terraces' that provided a diversity of external play areas. The school is organised around this section, with the youngest pupils at ground level (years 3-5) through to junior at the top (years 9-11). The stepped section also allows larger communal spaces to be created below, where an oak-lined multi-purpose hall forms the social heart of the school, lit by two central rooflights.
London stock bricks were proposed as the dominant facing material, both in response to the local context and to stand as a fitting replacement for the Victorian school. The building commands a strong civic presence with facades composed from a rich palette of materials that blends modern robust detailing with local historic references. The use of high quality facing materials was paramount in this constrained urban location, given that both the school and the commercial building are built up against the pavements to maximise use of the site. The two buildings are separated by the pedestrian link, allowing each to display a distinct identity to the street, with the commercial building clad in a darker, contrasting brick.
The masonry detailing on the school evokes the massing and solidity of Victorian architecture with expressed brick reveals, rooftop playground walls, deep brick soffits and characteristic stone banding, all of which suggest solidity and permanence. The green glazed brick plinth and circular window surrounds offer playful relief, suggesting the activity within while referencing the polychromy of the nearby grade-II listed Michelin Building on Sloane Avenue.
The brick facades will allow the school to withstand the harsh, heavily trafficked urban environment, with minimal maintenance, for many years to come. Potentially, and unlike many building materials, the bricks could be re-used after they have served their purpose, as was the case with the salvaged bricks from the demolished Victorian school. Several of the historic stone plaques and keystones were also reclaimed and built into the facades of the new school to help preserve its legacy.
Marlborough Primary School was winner of the Education award at the Brick Awards 2018, sponsored by Forterra