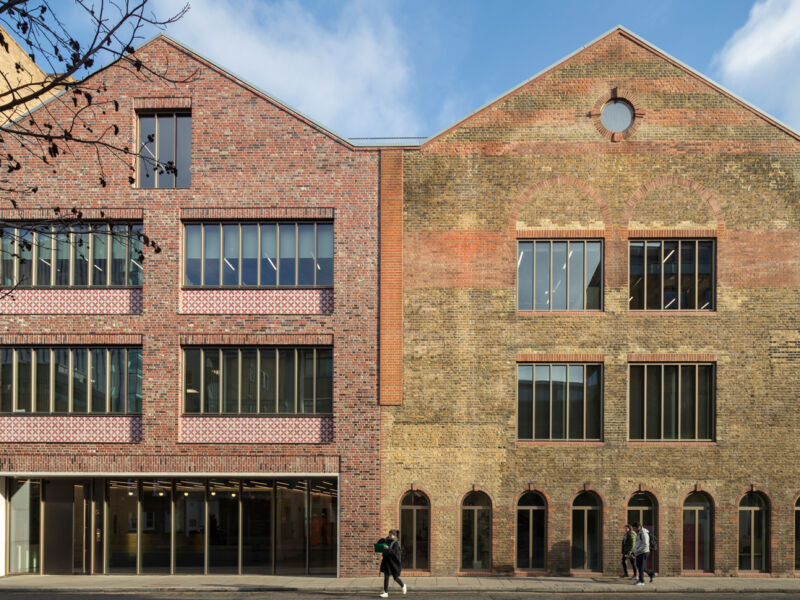 Hawkins\Brown's refurbishment and extension of 53 Great Suffolk Street, a Victorian warehouse in Southwark, incorporates a new-build extension that reinterprets the language of the existing building in a contemporary idiom to deliver contemporary office space. The project is located within a district of both industrial and cultural buildings in a lively neighbourhood that is home to local institutions such as the Union Theatre and Great Suffolk Street Warehouse. Through retaining the warehouse and creating a complementary extension, the historical character has been respected, while supporting wider enhancements led by Southwark Council to revitalise the surrounding area.
The envelope of the new extension showcases traditional manufacturing techniques, including hand-blended clinker bricks, which combine durability with natural colour variation. Hawkins\Brown underwent a lengthy selection process for the new external bricks to ensure they reflect not just the context of the building but encompass the broader design approach.
The Victorian warehouse was built in the 1890s and is believed to have been used as a blacksmiths and meat factory throughout its history. The renovation and extension more than doubles the floor area to 40,000 square feet with the new-build extension that adopts and adapts the language of the existing building. The challenge was to create a new building that can be read as a whole, striking a balance between being sympathetic to the existing warehouse and creating a strong, contemporary building.
A palette of textured, crafted and natural materials was selected to complement the raw nature of the existing warehouse building. The centrepiece of the internal design is a cantilevered steel staircase with brass fittings, which stitches the floors together and sits within a glazed enclosure that is visible from each office space. Exposed services are carefully coordinated within a hybrid steel and concrete structure. Natural light drawn from a lightwell above is complemented by handmade hanging light fittings.
The extension provides an additional floor across the whole site, without appearing to increase the massing, through the introduction of roof-level dormers. This posed a significant challenge as little extra loading could be imposed on the existing warehouse structure, leading to a cantilevered solution that transfers the weight into the new building's foundations.
A guiding principle throughout the interior strategy was to avoid the use of painted plasterboard and instead express each element and material separately and honestly.