Public
Gunnersbury Cemetery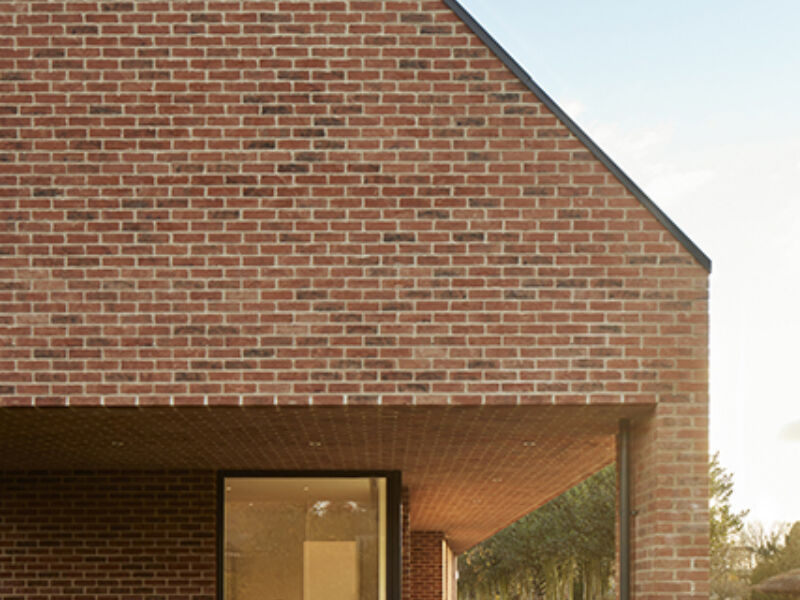 Details
Brick Manufacturer: Wienerberger Limited
Architect: Kaner Olette Architects
Brickwork Contractor: Four Seasons Construction Ltd
About the project
The project involved the replacement of an existing admin building, maintenance depot building and the remodelling of an existing toilet block, with the new build works adjoining on to the existing toilet block, uniting all the disparate uses across the site into one, new, single, L-shaped building.
The new building forms two sides of an enclosed courtyard, which contains a walled garden creating a positive space for visitors and staff of the cemetery. The building also includes the addition of space for visitor consultations and a cemetery archive. A key aspect of the design was ensuring that the building was welcoming and sensitive to visitors looking to use the cemetery's services.
Externally, a textured handmade brick was used for both the façade and the soffit, resonating with the existing brick gabled chapel on site. A lime mortar was then carefully selected to complement the textured nature of the brick, with a flush joint, brushed to bring out the aggregate. The use of lime also mitigated the requirement for movement joints breaking up the façade and facilitating future re-use of the bricks should the building ever be demolished.
Aluminium coping over the steeply pitched gables is used to protect against potential lime run off staining the façade.
The rear elevation facing the car park conceals the grounds staff mess room with a requirement to avoid windows on this façade so visitors couldn't see in when they arrived at the car park. To avoid the wall feeling overly austere, a corbeled brick detail was introduced, pulling out a series of bricks to form a band that shares the same proportions as the new brick columns on the main elevation and subsequently breaking up the elevation.