Small Housing Development
Forest Houses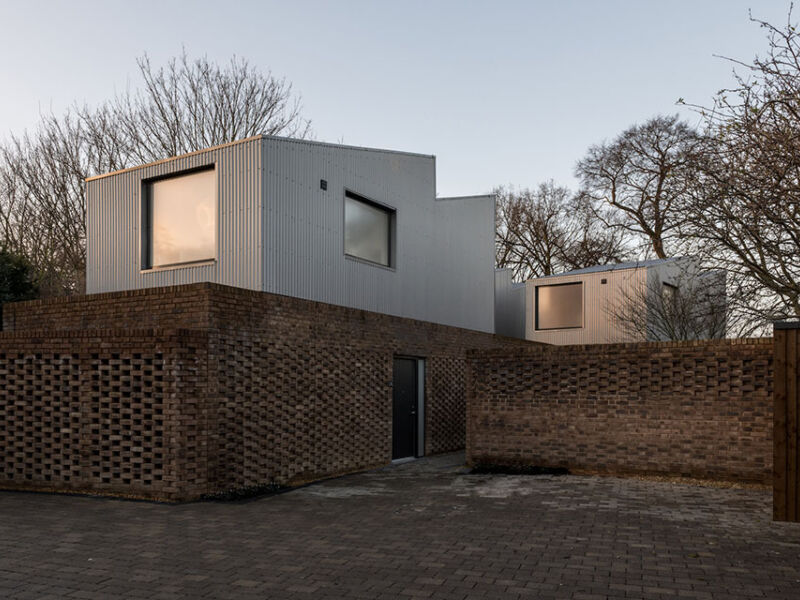 Details
Brick Manufacturer: Ibstock Brick Limited
Architect: Dallas-Pierce-Quintero
Brickwork Contractor: Global Brickwork Ltd
About the project
Located along Newham's Wanstead Flats, Forest Houses sees the transformation of a former builder's yard into three new-build homes - including one 3-bedroom family house and two 2-bedroom houses.
The site is bounded by terrace houses to the front and the parkland of the Flats to the rear. The client's brief sought to maximise an under-used and constrained brownfield plot, and deliver a solution that can respond to and respect neighbouring properties.
Tucking into the furthermost corner of the site, D-P-Q's innovative design for the new-build homes is based on 'upside-down' living - moving bedrooms to the ground floor and positioning the kitchen and living spaces on the projecting first floor.
Celebrating simplicity in materials and innovation in construction, this low-tech yet super-insulated project fuses traditional and modern methods of construction to create a truly sustainable and efficient-to-run home. Brick and metal feature as the primary elements of a robust, long-lasting and easy to maintain material palette - a nod to the site's industrial history which also helps to break down the building mass to a human scale. Building on the potential of a simple palette, D-P-Q's approach sought to use these materials in unexpected ways, drawing on their practical and aesthetic qualities to create a unique, user-led, and site-specific development.
At ground floor level, the use of traditional masonry construction lends itself to the plot's irregular shape, and allows for a carefully-considered jigsaw arrangement, where the three units efficiently interlock layouts around a series of lightwells and courtyards. This layout optimises the number of homes on the site while introducing a strong relationship between inside and out. The light-coloured brickwork, with recessed mortar joints, wraps around the rooms and courtyards to create a
'plinth'-like appearance, while seamlessly forming into the site's boundary walls.