Back to the 2023 Winners
Sustainability
Shrewsbury Flaxmill Maltings
Sponsored by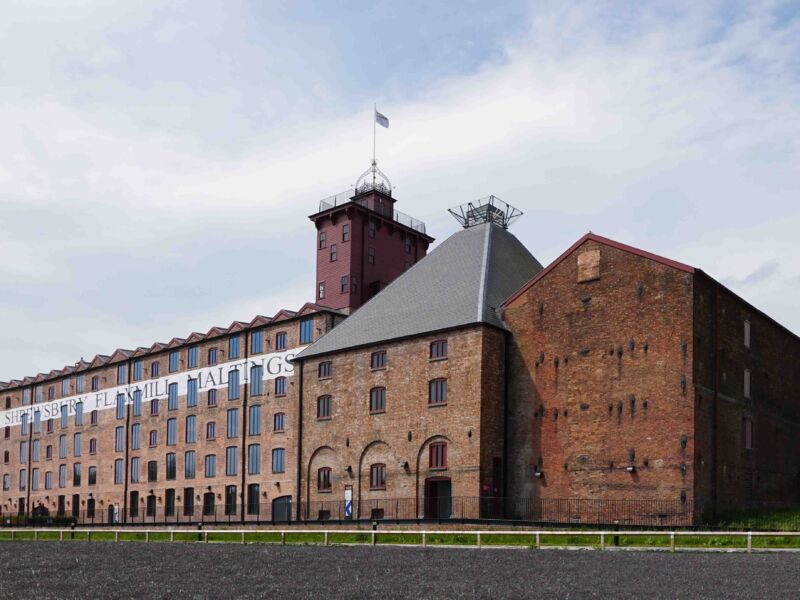 Details
Location: Shrewsbury, Shropshire
Brick Manufacturer: Northcot Brick
Brick Name: Brickfield Orange, Weathered & Stratford Mellow Weathered
Architect: Feilden Clegg Bradley Studios
Contractor: Croft Building & Conservation Limited
About the project
Judges Comment:
"The creation and application of new brickwork into this existing building highlights the re-usability & sustainability of clay brick."
Putting this 225-year-old Grade 1 listed building 'back to work' after 30 years of dereliction required comprehensive repair, retrofitting and bold insertions to safeguard the next 100 years.
The pyramidal Malt Kiln is re-purposed as a dramatic new entrance and vertical circulation providing level access to upper floors. The decision not to heat this circulation space is emblematic of a project striving towards a circular economy.
Daylighting and overheating analysis determined the need to re-open 110 former windows and the specification for solar glazing and free area for natural ventilation. Exposing masonry jack arches and installing ventilators over new internal glazed partitions creates a comfortable working environment whilst retaining the open historic character.
The project team repaired, reused and retrofitted driven by long life loose fit design principles. The fixed budget and high aspirations for sustainability and design quality called for collaboration across the team to achieve this exemplar of adaptive re-use.
• A state-of-the-art structural strengthening design provides the existing fragile cast iron frame with additional load capacity and alternative load paths whilst retaining its unique character as a pioneering historic structure. The entire existing iron frame was put back to work with the addition of a hidden steel grillage and 6no. new columns at ground floor.
• The building was originally built with oversized bricks to avoid tax. Northcot were tasked with matching the original for size and variation to allow maximum retention of historic fabric and character. Specials were made for splayed window reveals to reduce waste and dust from cutting on site.
• Existing lime mortar allowed bricks to cleaned off and re-used. Georgian brick pavers were re-used to form window cills saving materials and capturing a history of re-use. Lime mortar was used throughout for its flexibility, breathability, beauty, reduced carbon and constructibility.
• Timber elements of the roof required extensive repairs due to years of neglect. Original oak rafters were re-used whilst cast-iron gutters were repaired by local specialists who were quite literally restoring pride in their community.
The specification for new materials was guided by research and the Green Guide to specification.
• Sustainably sourced UK Thermal Timber was used for the Jubilee Tower cladding.
• Wood fibre and lime plaster was used for wall insulation following a two-year on-site trial and monitoring of the hygrothermal performance.
• Hot lime mortar was used re-point walls that had been internally insulated to promote moisture movement avoiding risk of interstitial condensation. Training sessions were held on site to upskill operatives and professionals alike.
• Welsh slate was used to clad roofs and sheep's wool as insulation.
Surplus materials were sorted and sent to local upcycling companies. Existing slates which could not be re-used were used by school groups as tablets during their visits to the education centre.
The architects Feilden Clegg Bradley Studios developed an online Carbon calculation tool 'FCBS Carbon' which was used to investigate the relationship between embodied carbon and operational carbon to inform and refine the design.
Embodied carbon:
o New build elements emitted 113 kgCO2e/m2, or 472.5 tCO2e
o Retained elements kept 886.4 tCO2e "in use"
o Ratio of retained to new was 65% to 35%
o LETI "A+" rating for embodied carbon
Operational energy:
o Predicted annual energy use: 136 kWh/m2.year
o New glazing saves 65,300 kWh/year, insulated roofs 92,700 kWh/year and walls 17,600 kWh/year
o Total saving of 175,500 kWh/year or the equivalent of 17.5 houses annual energy use
o Estimated 30 years carbon savings based on thermal upgrades and GSHP: 925 tCO2e
A Renewables Options Appraisal recommended a 114kw ground source heat pump delivering 45 kWh/m2/yr low carbon space heating, 69% of the total heating load. Consents were obtained for a future phase of photovoltaics on the south facing saw tooth roof.
Wider aspects of sustainability have been reviewed using the One Planet Living matrix and a continuing study with Historic England into the social value impact is being undertaken. The project achieved an EPC B rating of 47. Recent awards include the Georgian Group 'Diaphoros' Award 2022 and shortlisting for AJ Client of the Year Award 2023.
The project is a mixed-use development. The ground floor was built 'for purpose' as a volunteer led visitor interpretation and a vegan café which are both receiving rave reviews. The upper floors were built 'on spec' as workplaces to rent to creative SME's. A programme of soft landings and evaluation studies are providing feedback to fine tune comfort and energy use. The first phase of workplaces is fully let with a second phase planned for delivery early 2024.
Sponsored by Michelmersh Brick Holdings PLC
As Britain's Brick Specialists, Michelmersh Brick Holdings PLC unites the best in clay traditions. The Group represents seven of the most recognised premium brands across the UK and Europe: Blockleys, Carlton, Charnwood, Floren.be, Freshfield Lane, Hathern Terra Cotta and Michelmersh, producing over 125 million handmade and machine-made clay bricks and pavers annually. Using modernised production methods that emphasise sustainable building solutions and adhere to the most stringent production requirements, Michelmersh guarantees high quality product standards with a low ecological footprint.