Back to the 2023 Winners
Public
Black Country Living Museum
Sponsored by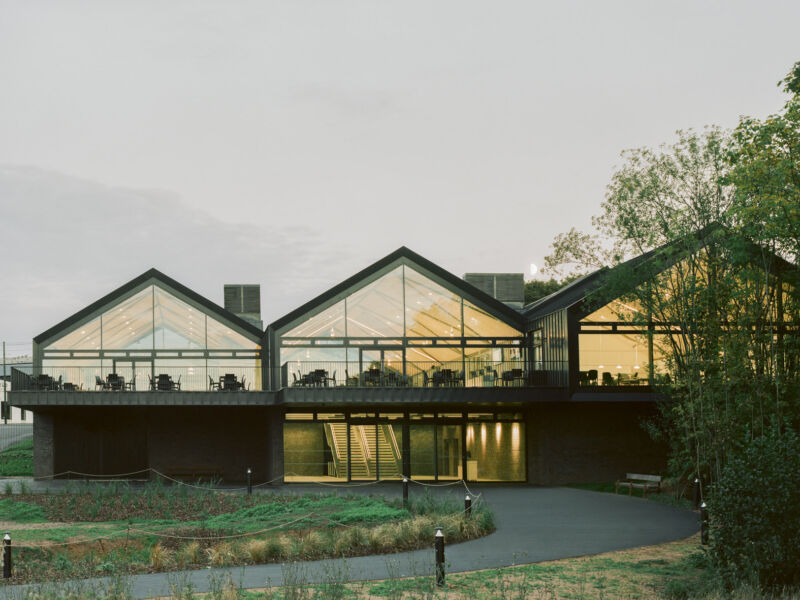 Details
Location: Dudley, Worcestershire
Brick Manufacturer: Michelmersh Brick Holdings PLC

Brick Name: Freshfield Lane - Selected Darks
Architect: Napier Clarke Architects
Contractor: Balfour Beatty
About the project
Judges Comment:
"This project serves as a prime illustration
of the utilisation of clay bricks within the constructed surroundings."
"When we write the story, of this – the single largest development in the Museum's history, we will recognise that 12 June 2017 was decisive. It was the date we met Napier Clarke Architects and the design team which had been thoughtfully assembled to skilfully respond with the right balance of originality, workability and visual impact to our brief for a new Visitor Centre, car park, pedestrian routes and landscaping. The £7.36m project would be a new gateway to a £30m expansion of the Museum. As client, I have felt involved, in control and supported; a lockstep approach which has seen Napier Clarke's vision realised, as well as our needs sated. No mean feat, in surely the most uncertain times for a client-architect relationship. A "bostin" outcome, as we say in the Black Country."
Andrew Lovett OBE Chief Executive & Client
Approaching along a meandering woodland path, visitors are greeted by the new building which evokes the gritty industrial character of the Black Country. The centre is conceived as a contemporary reflection of the built heritage of the region and draws upon the forms and materials of the museum's historic buildings, while nevertheless presenting a deliberately modern addition to the ensemble. It is arranged as a series of staggered black vaulted roofs, reducing in footprint from west to east to give relief and space towards the neighbouring buildings, and set upon a brick plinth to enable elevated views across the museum from within the main visitor spaces. The brick plays a key role in the new buidling, with reference back to the historic musuem, the selected darks were a perfect choice to give an aged but contmeporary feel. The roof, made from black standing seam zinc, oversails to the south to provide solar shading, and is flush to the north to maximise views.
From the entrance, an exhibition window gives a glimpse into the museum interior and the large, vaulted admissions/exhibition hall. This is constructed from a steel triangulated frame - minimal in detail and repeated through all three forms - and intended to be light and airy with large rooflights set within plywood and natural wood fibre acoustic panels. The ground floor houses open plan admissions, exhibition, retail and café spaces, all designed as flexible spaces allowing for conferences and local events.
The lower ground is accessed via a large central precast concrete stair or the two large lifts for wheelchair access. The lower ground is a dedicated exhibition space and is intended to be much darker, with dark brick walls, dark steels supporting precast concrete and grey acoustic panels, evoking an industrial feel as visitors move towards the main Black Country Living Museum itself.
The building is naturally ventilated, using windows for air intake and windcatcher chimneys for air extraction, using a BMS system. Air source heat pumps support underfloor heating in all areas, and the thermal mass of the precast concrete floors, stair and brick walls helps to moderate internal temperatures.
Sponsored by Northcot Brick Northcot Brick have been quarrying clay and making bricks for nearly 100 years. The richly-coloured bricks are made by Master Brickmakers who between them have hundreds of years of experience in the highly skilled art of brick-making. The bricks they make are used in all types of building projects all over the country.