Back to the 2023 Winners
Craftsmanship
Shrewsbury Flaxmill Maltings
Sponsored by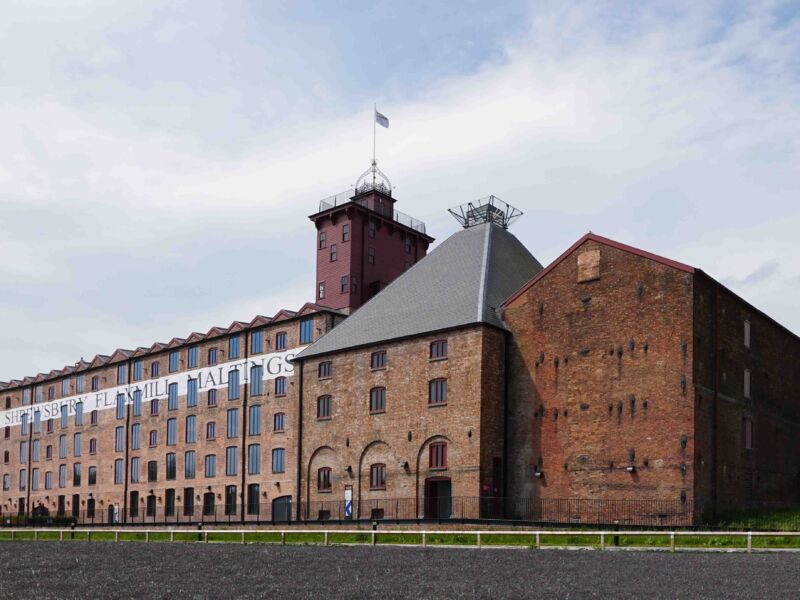 Details
Location: Shrewsbury
Brick Manufacturer: Northcot Brick
Brick Name: Brickfield Orange, Weathered, Stratford Mellow Weathered
Architect: Feilden Clegg Bradley Studios
Contractor: Croft Building & Conservation Limited
About the project
Judges Comment:
"The creation and application of new brickwork into this existing building is a highly executed example of craftmanship. The heritage skills programme and light touch conservation approach as a mechanism to repair and convert this internationally important building is an accomplishment."
Historic England's flagship restoration of Shrewsbury Flaxmill Maltings, the world's first cast iron-framed building, is a testament to traditional craftsmanship.
Originally built in 1797 as a steam powered flax mill, the building was repurposed as a maltings from 1897 to 1987 before falling into dereliction.
In 2005, Historic England bought the site and partnered with Shropshire Council and Friends of the Flaxmill Maltings, to secure a £20.7 million grant from the National Lottery Heritage Fund in 2017 for the restoration of the Grade I listed Main Mill and the Grade II listed Kiln and its repurposing as a vibrant business hub and heritage destination.

Croft Building & Conservation worked on a comprehensive programme of repair, reuse and retrofitting, combining modern sustainable practice with traditional materials and over 80 skilled craftspersons.
The original five story Main Mill building, which had a frame comprising three rows of cast iron columns with beams extending between them and brick arches between the beams forming the floors, had serious structural flaws and required significant strengthening measures.
Embedded timber had also rotted causing walls to delaminate compromising the structure and so a thirteen-step plan to safely remove the timber and reinstate the brick elevations was developed.
The walls were thermally upgraded with wood fibre insulation and finished with lime plaster and the existing masonry was repointed with lime mortar to ensure that the moisture wicked away. Craftsmen were retrained in these traditional specialised methods.

The Main Mill was originally built with 'great bricks' which were approximately one-third larger than standard bricks to reduce the burden of the 18th century brick tax. These were cleaned off and re-laid in lime mortar.
Northcot made 90,000 bespoke oversized bricks in two sizes (75 & 93mm) for three different blends, all hand thrown and kiln fired using traditional methods and weathered to match both colour and texture of the originals. Their size (93mm) required significant hand throwing skills from a team of experienced master brickmakers.
The new bricks were used primarily for the reopening of 110 Flax Mill era windows, (bricked up or made smaller when it was a maltings) and for repairing gaps in the floorplates, which were created when the maltings machinery was removed. Special brick squints were made for the splayed window reveals to reduce dust and waste.
Whilst reinstating former window openings, Georgian brick pavers were discovered and skilfully re-used to form the window cills.
New bricks were also used to repair the roof line and where the Main Mill joined the Engine Houses, Jubilee Tower and Kiln structures.

To help reverse declining craft skills, a heritage skills programme, supported by the Andrew Lloyd Webber Foundation, was delivered on site through work placements, site tours and training at all levels for students to industry professionals. Partners included Shrewsbury College, Telford College, Prince's Foundation Building Craft Programme.
Training sessions included bricklaying placements and hands-on experience in traditional brick making for college students.
Sponsored by Architecture Today

Architecture Today is a multimedia portfolio spanning print, digital, social media, exhibitions and events. The Architecture Today brand is widely respected for outstanding design, authoritative writing and insightful analysis by high-profile architects and commentators.
Launched in 1989 with the backing of 70 leading practices, it continues to be owned and run by a small, independent, highly committed team with deep roots in the architectural community.