Back to the 2023 Shortlist
Worldwide
Charleston Road Townhouses and Mews
Sponsored by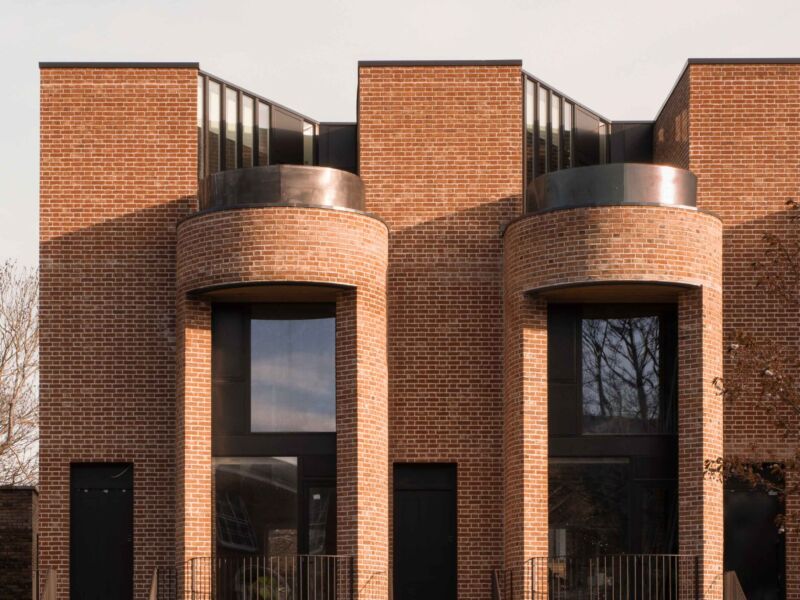 Details
Project Country: Dublin, Ireland

Architect: Lawrence & Long Architects
Contractor: O'Reilly Concrete 
About the project
The development comprises the demolition of an existing dwelling at No. 56 Charleston Road, a 1930's building of little architectural merit, and the construction of 4no. four-bedroom, four storey townhouses. An existing 1876 mews type dwelling at the south of the site has been retained, refurbished and extended.
The four townhouses are a contemporary reinterpretation of traditional brick Victorian townhouses. Each house has a strong architectural form, characterised by a large curved brick bay with a deeply recessed window and a setback roof top terrace. The houses are finished externally in a selected clay brick with a Flemish bond and off white mortar. The internal arrangement of the houses has been carefully considered to benefit from natural daylight and external amenity. The upper ground floor of each house includes a large day room with a terrace to the east and west. The mid 19th.century mews to the south of the townhouses, formerly known as Abercorn House, has been refurbished and extended, and provides a striking backdrop to each house. It's reconfiguration to front on to Charleston Avenue eliminates overlooking issues to the townhouses whilst providing a fitting bookend to the southwest facing terrace.
At an early stage in the project it was decided that the four new townhouses would be constructed of brick.
Brick is a high quality material and weathers very well. The new townhouses are located within a Conservation Area which is characterised by late 19th. century Georgian and Victorian townhouses finished in brick.
The final selected brick is an Apollo Red Multi, manufactured by Wienerberger and supplied by Kingscourt Country Manor. The tone and quality of the brick is sympathetic to the existing brick of the adjoining listed buildings.
The townhouses are part constructed of pre- cast concrete sandwich panels with a 35mm brick finish and traditional 217mm x106mmx 65 mm brick for the curved bays. The bricks were laid in a Flemish bond with a buff colored mortar. Movement joints were carefully considered and detailed to lessen their impact on the brick facades.
The scale of the bricks used ( 217mm / 106mm x 65mm ) allowed the bays of the townhouses to be built without using curved specials notwithstanding the relatively tight radius of the bay drum of 1680mm.
The late 19th century dwelling which was retained to the south of the new townhouses had a non original sand and cement render removed and the original brick façade was repaired. Where windows were blocked up, the selected Apollo Red Multi was used in a decorative manner to add detail and interest. The modern brick worked well as a counterpoint to the original brick while also helping to architecturally connect the original dwelling to the new townhouses.
Sponsored by Brick Awards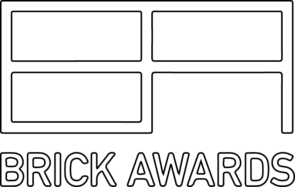 The Annual Brick Awards is an Architectural competition aimed at attracting and showcasing architects wishing to submit their brick projects for recognition and celebration. Attracting 300 entries in 17 hotly contested categories every year, it has become one of the most popular events in the construction calendar. If you wish to sponsor this award, please contact George Spreckley