Back to the 2023 Shortlist
Urban Regeneration
The Depot
Sponsored by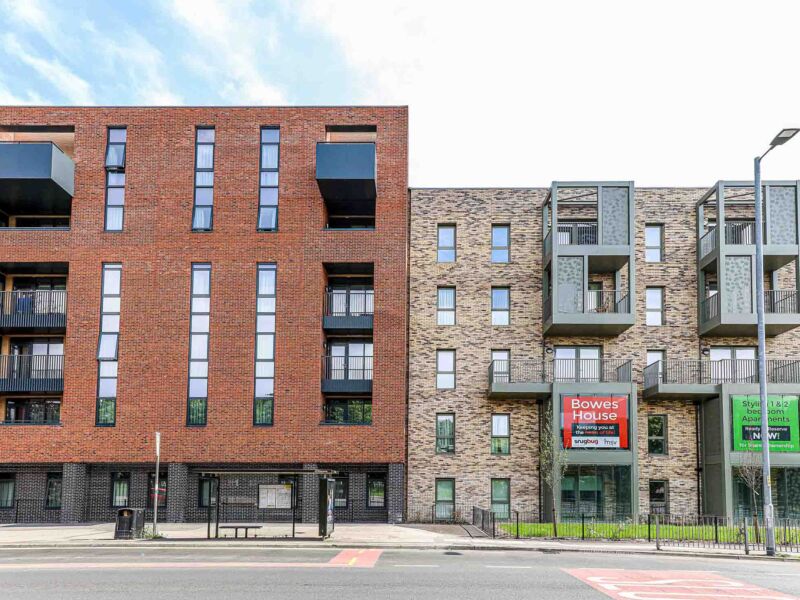 Details
Location: Manchester
Brick Manufacturer: Ibstock Brick Limited & Wienerberger Limited
Brick Name: Leicester Autumn Multi,  Brunswick Antique, New Ivanhoe Cream, Tay Buff Multi
Architect: Buttress Architects
Contractor: Rowlinson Construction

About the project
This large housing development, which regenerated a six-acre brownfield site previously occupied by a Stagecoach depot, has provided much-needed accommodation for a diverse range of people in Manchester's Moss Side. The scheme delivers over 300 new homes, which includes a carefully planned combination of stylish new family homes, modern apartments, and later life accommodation for over 55s.
Designed for Rowlinson, by Buttress Architects, there are 54 townhouses with three or four bedrooms, allocated parking, and private gardens. These were built with timber frames and tiled roofs. The contemporary apartments are based in four low-rise blocks, each with 23 units of one or two bedrooms. Meanwhile, the housing for over 55s offers accessible and affordable accommodation with good-sized rooms and wheelchair access. They create a welcoming and safe environment with a balance of shared social, transitional, and private spaces.
The overarching design concept was to create a development where generations can mix freely and residents can upsize, downsize, or adapt their space to meet their changing needs. The development is also pedestrian friendly, puts people at its heart, and contains tree-lined streets, communal gardens, and green spaces that enhance wellbeing.
Aesthetically, the concept was to create a community that enriched the existing urban grain and materiality whilst respecting the Victorian homes in the locality. Buttress specified a varied yet restrained material palette of greys, buff and red facing bricks that complemented the vernacular, but to ensure the development stood as a distinct community in its own right.
To create further variety and interest, each housing type adopts a different visual identity. The bricks play a key role in achieving this with Ibstock's Leicester Autumn Multis, Brunswick Antiques, New Ivanhoe Creams, and Tay Buff Multis providing different characteristics. These bricks were chosen to compliment the existing surrounding context of pre and post war housing. The multi bricks were chosen for their depth of colour and variation of finish, whereas the smooth creams were selected to create a contrast to the dominant red brickwork in the area.
The use of projecting and recessed brickwork panels on key elevations, helped to provide texture, together with soldier coursing in a contrasting brick to define scale and storey height. Further details helped to differentiate the buildings with use of metal balconies, vertical tile cladding and contemporary projecting bay windows. The overall effect is a modern architectural take on a classic Manchester, terraced street design.
Sustainability also plays a part. The timber frames and zinc roofs are environmentally friendly. Meanwhile, several embedded features keep the carbon footprint small: LED lighting, cycle spaces, recyclable domestic waste, thermostatically controlled zones, excellent thermal insulation and abundant natural daylight.
Finally, the new development plays an important role in the community, providing much-needed spacious, secure, and affordable accommodation for a growing and ageing population. As a result of the above, The Depot has already won the Best Development Award (outside London) at the Inside Housing Development Awards, and more recently best Private Development at the Northern Housing Awards.
Sponsored by Miers Construction Products

Miers Construction Products is an independent supplier of construction products delivering from a number of locations across the UK. We aim to provide our customers with a 'single source' connection to supplies, products and technology. We are dedicated in our efforts to become a valuable supplier/partner by providing products and services that out perform all standards and expectations and offering unparalleled service through dedicated employees whom are committed to being the best in our industry.