Back to the 2023 Shortlist
Small Housing Development
St Peter's
Sponsored by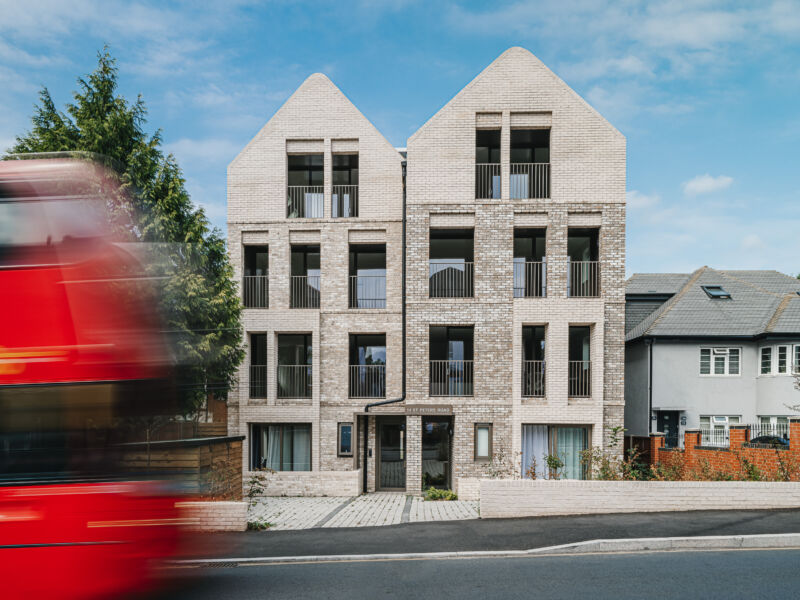 Details
Location: Croydon
Brick Manufacturer: Wienerberger Limited
Brick Name: Bronsgroen, Marziale, SuperWhite
Architect: Grant Freeman, OB Architecture Ltd, BLUNN Architects
Contractor:  Inseen Construction
About the project
St Peter's is a residential development of 8 apartments on a main road leading into South Croydon. Located centrally to a natural depression, the 4-storey building sits comfortably within the undulating roofline of the streetscape which is made up of a patchwork of buildings of many architectural styles, eras and heights.
A twin gabled elevation draws on the locally prevalent Victorian style of buildings, and notably the nearby twin gabled elevations of 22 and 18 St Peter's Road. The twin gable is split and stepped in footprint to articulate the building's slenderness and gabled proportion in views looking north and south along St Peter's Road, with only one gabled form being visible until you are positioned almost directly in front of the building.
Located immediately opposite a row of Georgian mansion townhouses, the building takes cues from the symmetrical and controlled elevations of this building style to create an ordered elevation with real relief and expression. Architectural features such as projecting bay windows, string courses, deep window reveals and expressed lintels add relief to the architecture of the area and have been adopted in a contemporary approach to tie the building into its immediate context.
The decision to develop a building concept based on facing brickwork was established early on. Architectural detail and the relief it brings to an elevation can be critical to the success of a building, especially where sensitive integration with its context is important. The elevational depth and relief were critical for us in achieving this sensitive integration and referencing the local varied character. Brickwork provided the most effective and robust way to do that whilst ensuring that the architectural elements all came together holistically. A further key consideration was the client's preference to develop a cost effective traditionally supported masonry structure without the need for a superstructure of concrete or steel, something that through collaboration with the Structural Engineer was achieved.
Three main materials were specified, all brick. The two gabled sections of the building are specified with contrasting Bronsgroen and Maziale bricks from Wienerberger. Almost identical in texture, the subtle red and yellow variation is just enough to help set the gables apart. A contrasting string course of brick then runs through the elevation setting off a contrasting, almost smooth white brick of Super White by Wienerberger to the gable apex and eaves. The Super White is used in contrast to the more textured bricks to identify architectural detail, the lintel reliefs and projecting bay windows. A matching mortar is used with the Super White to reinforce the smoothness of the brick texture and strengthen the contrast to that of the Bronsgroen and Maziale bricks.
The success of the building is down to the use of brick. Brick has an ability to exhibit so many different characteristics across such a range of options, texture, colour, size, tolerance, coursing; yet, when used together correctly, a building can appear as a single material and object perfectly balanced, which is exactly the case with St Peter's.
Sponsored by ARC Building Solutions ARC Building Solutions is a specialist manufacturer of cavity fire barriers and cavity closers, based in Leeds, West Yorkshire. Established in 2008, ARC specialises in bringing unique and innovative products to market. Designed to solve real world on-site challenges, ARC's products help to deliver safer and more sustainable homes and buildings. ARC's wealth of technical experience ensures that the best solution can be identified from our comprehensive range of products.