Back to the 2023 Shortlist
Public
St Luke's Church
Sponsored by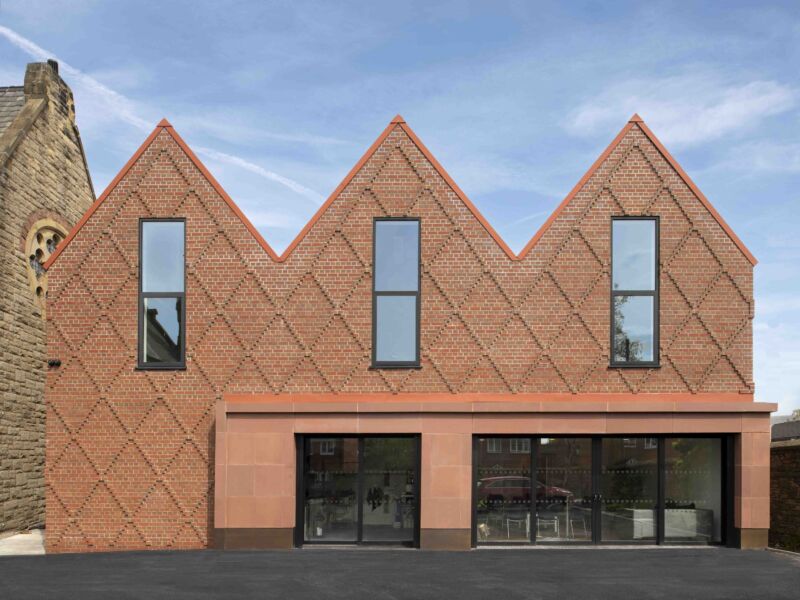 Details
Location: Blackburn
Brick Manufacturer: Michelmersh Brick Holdings PLC
Brick Name: Hadley Red Brindle Wirecut
Architect: Patrick Wilson Architects
Contractor: H. H. Smith & Sons Co. Ltd

About the project
St Luke's Church Hall sits within the grounds of St Luke's Church, Blackburn. The Church is sited off Bank Top, a main road to the west of Blackburn Town Centre and its spire can be seen from at least 3.4 miles away; it serves as a landmark in the town.
At the start of the project, the site consisted of St. Luke's Church, a substantial stone parish church, founded in 1875, a single storey, concrete stone-effect faced Church Hall which was added in the early 1970s, and a car park. Prior to the covid pandemic, the site had previously held community events and meetings in both the Church and Church Hall, which had minimal kitchen facilities.
The design of the Church Hall is rooted in contextualism and its visually striking façade, takes inspiration from existing shapes presented in the Church windows and roofline, and surrounding housing brick patterns. The materiality of the façade, Michelmersh Hadley Red Brindle Wirecut and red cast stone have been selected to contrast with the Church and compliment the surrounding material palette, whilst still appearing soft as a stand-alone element within the Courtyard.
The Hall was designed with no windows to the South façade; to avoid overlooking into the neighbouring houses (planning had been approved for these at the time of design) and reduce the amount of solar gain into the building. Large windows were positioned in the centre of each gable, at first floor on both the East and West sides of the building, to maximise natural light into the multi-purpose and office spaces. These windows were also designed to allow cross-ventilation and air circulation through the upper rooms as a passive cooling mechanism for the heat which rises through the building.
On the ground floor, two large sliding doors, on the courtyard side of the ground floor sit beneath a cast-stone overhang create deep window reveals. This overhang creates some shading, and, on very bright days, the concealed perforated security shutters can be lowered as additional solar shading. When open, the large sliding doors have level access for movement between the inside and outside spaces, as well as enabling passive surveillance to the courtyard. The elevation overlooking the courtyard has been designed so activity within the courtyard can be seen, and monitored, from both the ground and first floor areas.
This bold design is intended to fulfil the client's space and amenity requirements and become a beacon for the community.
Sponsored by Northcot Brick Northcot Brick have been quarrying clay and making bricks for nearly 100 years. The richly-coloured bricks are made by Master Brickmakers who between them have hundreds of years of experience in the highly skilled art of brick-making. The bricks they make are used in all types of building projects all over the country.