Back to the 2023 Shortlist
Medium Housing Development
Oakleigh Road
Sponsored by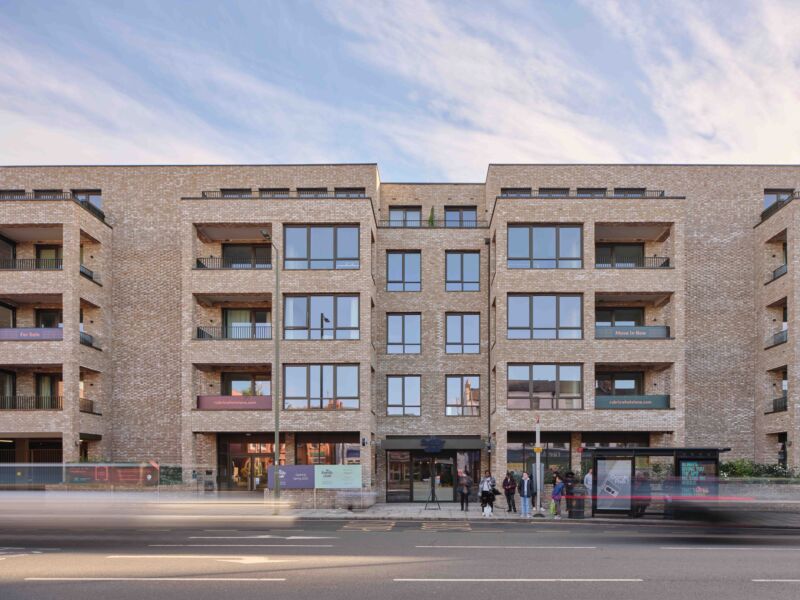 Details
Location: London
Brick Manufacturer: Wienerberger Limited
Brick Name: Con Mosso

Architect: HAL Architects
Contractor: Chine Brickwork & Development
About the project
Brick is king at 10-14 Oakleigh Road North, the chosen material for all external building elements, even those more typically fashioned from other cladding materials. The architecture is a reimagining of London mansion blocks. The front façade (facing Oakleigh Road), comprises a series of solids - bays projecting out of the building line and voids - inset balconies. Conversely, the rear façade features voids that eat into the building line, breaking its solidity.

The use of a single high-quality brick throughout, Con Mosso, and a brick-matching coloured mortar, creates a seamless transition between the solids and the voids, resulting in a building that is calm and readable, yet dynamic. The white, buff, and yellow tones of the Con Mosso brick bring lightness and slenderness to an imposing, timeless building. The choice of mortar gives further uniformity and solidity to the building, whilst the recessed/raked pointing allows the façade to gain depth, defining every brick.
The rhythmical succession of volumes isn't the only defining feature of the building. Zooming closer allows the eye to notice the intricate brick patterns and detailing, which varies along and up the facades between Stretcher and Flemish bond. Additionally, the ground floor features a rusticated band to differentiate from the upper stories.
Stretcher bond with horizontal quoin (25mm), Flemish bond with horizontal quoin (25mm) and hit and miss Flemish bond, are the further brick patterns playfully placed on the façades, as a game of hide-and-seek. The most visible pattern is the four storeys hit and miss Flemish bond with quoin, which defines the stair cores of the building.
From the overall building volumes, through the Con Mosso tones and texture, to the quoin details and the raked pointing, the building is a beautiful juxtaposition of rhythmic dynamism and calm elegance; lightness and heaviness; solid and void; overall readability and intricate detailing.
Brick used: Wienerberger Con Mosso
Mortar: CPI mortar code ALK101, raked/recessed pointing
Photography & video credit: Simon Kennedy
Architect: HAL Architects
Client: GM London
Main Contractor: GM Developments
Sponsored by Grayson Building Products With large stocks from reputable manufacturers, Grayson can deliver an extensive range of goods across the UK & Ireland. Grayson work in partnership with the leading manufacturers to provide expert advice to our clients. Grayson get the right products, to the right place at the right time – key for any major project to keep running on schedule.