Back to the 2023 Shortlist
Medium Housing Development
Lancer Square
Sponsored by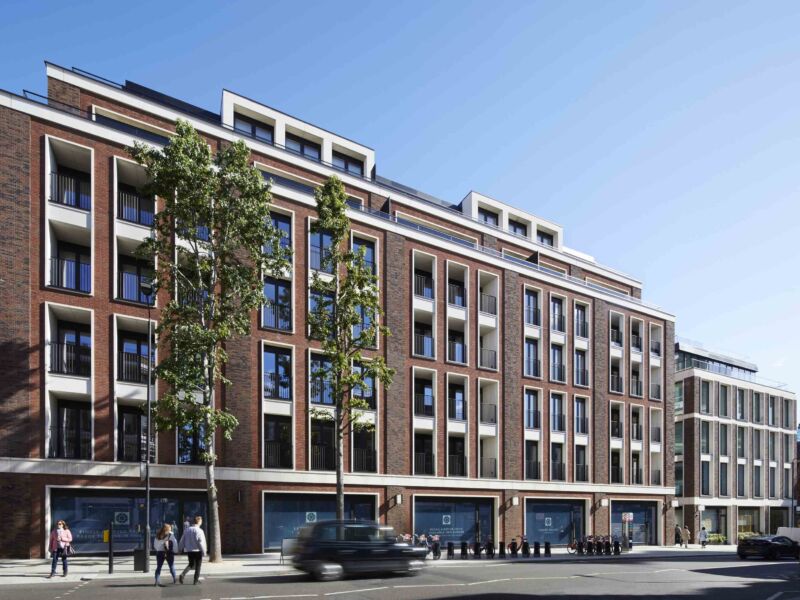 Details
Location: London
Brick Manufacturer: York Handmade Brick Company
Brick Name: Benchmade Special Premix

Architect: Squire & Partners 
Contractor: Techrete UK Limited

About the project
Squire & Partners have completed Lancer Square, a 13,600 sqm mixed-use scheme comprising four blocks ranging from 4 to 7 storeys, with fifty-one 1-4 bedroom private and affordable residential apartments, leisure, ground floor retail and cafes, a new office building and the introduction of a landscaped public courtyard.
Squire & Partners' design is a contemporary interpretation of the architectural character found within the Kensington Palace Conservation Area. Designs draw inspiration from the site's palatial and horticultural past as the original palace grounds and kitchen garden, and later as the Kensington Barracks for the Royal Lancers. The textured two-tone brick façades and vertical window proportions create connections with Kensington Palace whilst celebrating traditional and contemporary craftsmanship.
Apartment entrances are flooded with daylight and flow into an enfilade of rooms, with timber-lined portals around key openings to demarcate thresholds. A rich palette of luxurious materials includes Emperador stone, walnut timber veneer and oak floors. Ironmongery in champagne gold complements calacatta oro stone in master bathrooms and silk georgette in secondary bedrooms. Views out of apartments are expanded upon with loggias that offer discreet inside-outside living.
The penthouses at Lancer Square allow an extra level of craftsmanship, with inlaid joinery, book-matched marble, fireplaces, a feature stair and continuous terraces around every side that celebrate the views and flow of spaces from inside to out.
A series of bespoke branded elements, designed to identify the new timeless garden square, are woven into the fabric of the buildings – from the external façade, feature screens and ironmongery to the door handles and texture that is touched.
Tim Gledstone, Partner at Squire & Partners:
"Lancer Square represents a rare opportunity to extend the urban village of Kensington with a development steeped in the area's history. Originally home to Kensington Palace kitchen garden, the site later became Kensington Barracks housing cavalry and infantry including the Royal Lancers.
Squire & Partners' design organises the site with a cluster of elegantly proportioned buildings set around a landscaped public courtyard, taking influences from the palace's courtyards, orangery and sunken garden. Four distinct buildings - housing apartments, workspace, shops and cafes - enclose the square with an architectural language drawn from Kensington Palace and the surrounding Conservation Area. Two different tones of handmade brick combine with crisp limestone and delicate metalwork to create elevations which celebrate contemporary and traditional craftsmanship, and establish a new destination for living, working and dining in Kensington."
The facades at Lancer Square use two types of bespoke brick especially created for the development, and Portland Stone. Two brick families were created in red and black tones inspired by the elevations of Kensington Palace, with several trials being undertaken before the finished result was signed off by Squire & Partners.

Each brick family is designed to have three sub-types to ensure a variety of tone across the facades and were created with colour variation to ensure they knit seamlessly into Kensington Church Street. The façade celebrates the irregularity of size and texture inherent to handmade bricks. The grain of the brick will patinate with age.
Sponsored by Grayson Building Products With large stocks from reputable manufacturers, Grayson can deliver an extensive range of goods across the UK & Ireland. Grayson work in partnership with the leading manufacturers to provide expert advice to our clients. Grayson get the right products, to the right place at the right time – key for any major project to keep running on schedule.