Back to the 2023 Shortlist
Medium Housing Development
Davenport Apartments
Sponsored by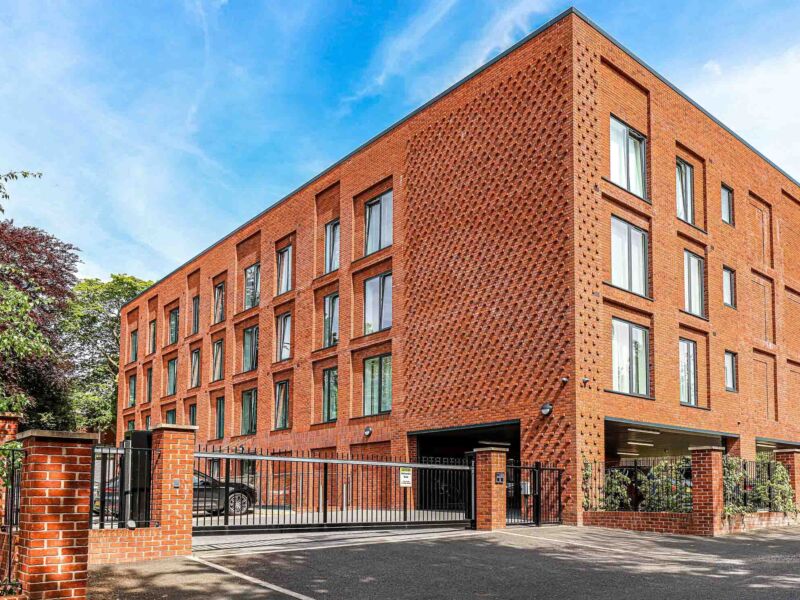 Details
Location: Stockport
Brick Manufacturer: Ibstock Brick Limited
Brick Name: Audley Red Mixture plus Faced on Bed Solids and Cut bricks to match

Architect: Cartwright & Gross Architect
Contractor: Roe Developments UK

About the project
Formerly a run-down hotel, Davenport Park Apartments provide modern and stylish accommodation over six storeys in a practical and beautiful location. The 39 one and two-bed units are situated on the border of Davenport Park Conservation area but also close to Stockport town centre and Davenport Train Station.
Designed by local architects Cartwright and Gross, the scheme very much responds to the local urban fabric, taking inspiration from the materials, proportions and details of the local vernacular. A simple palette of materials was used to create a modern look that complements its surroundings, avoids a pastiche, and enhances the character of the area.
The design adopts key design cues such as horizontal banding, subtle variations in material tone, deep punched reveals, and façade relief to reflect the local character and urban grain whilst retaining its own distinctiveness.
Red facing bricks - Audley Red Mixture plus faced on bed solids and cut bricks - are central to the concept. The brickwork is a constant throughout the scheme and employs a variety of brickwork details and sills to create a simple, timeless design.
A quadruple height soldier band runs across the main facade differentiating the ground floor to the floors above. This simultaneously provides a modern interpretation of the white stone band that belongs to adjacent Victorian villas.
Meanwhile, on the right side of the principal façade, projecting Flemish bricks complement the projecting decorative bricks of other surrounding buildings. Brickwork details and banding below the eaves also respect and respond to the character of the area in terms of height, type and materials used.
The scheme also prioritises wellbeing. Window and door opening proportions have been designed in line with typical local proportions but also ensure that all the dwellings have good levels of natural daylight. The apartments also boast attractive landscaped communal rear gardens; top floor units also benefit from outdoor space with spectacular views. Sustainability was also a consideration with low energy LED lighting, electrical vehicle charging points, and secure bicycle storage.
Originally built by Clowes Developments but sold to Stockport Homes Group in 2021, Davenport Park Apartments were sold on a shared ownership basis to give more people access to high-quality accommodation and help first time buyers get on the property ladder.
Sponsored by Grayson Building Products With large stocks from reputable manufacturers, Grayson can deliver an extensive range of goods across the UK & Ireland. Grayson work in partnership with the leading manufacturers to provide expert advice to our clients. Grayson get the right products, to the right place at the right time – key for any major project to keep running on schedule.