Back to the 2023 Shortlist
Large Housing Development
Southmere Phase 1b
Sponsored by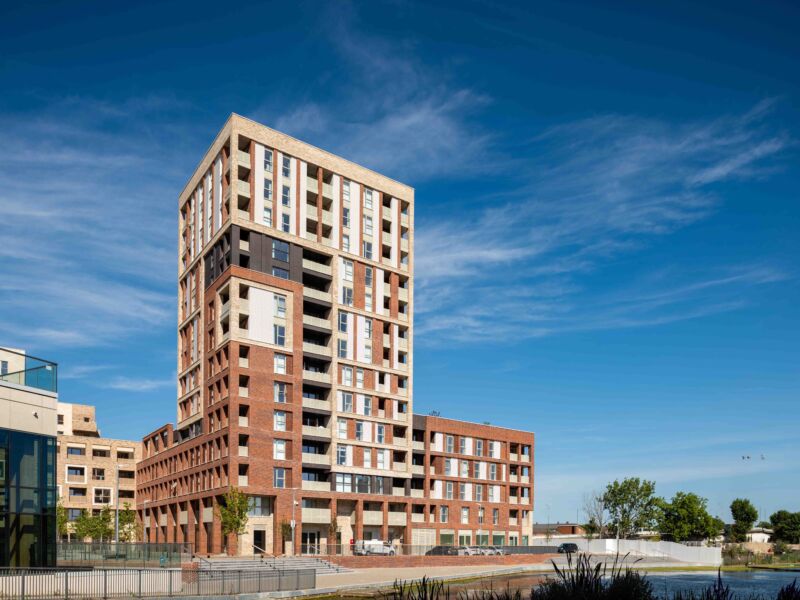 Details
Location: London
Brick Manufacturer: Wienerberger Limited & Ibstock Limited & Michelmersh Brick Holdings PLC
Brick Name: Wienerberger's Marziale & Ibstock's New Ivanhoe Cream & Porcelain White Smooth bricks

Architect:Proctor and Matthews Architects,  Fourpoint Architects
Contractor: Landmark Brickwork


About the project
Comprising a total of 404 new homes, commercial space and public realm spaces, Southmere Phase 1B has brought to life an area of former economic deprivation. Fourpoint Architects designed the new build homes with creative brick detailing to elevate the building's aesthetic. The three uniquely designed buildings within the phase feature complex shapes and intricate exterior details which create a visually appealing development for the Thamesmead area.
The main building figure in the design is the ensemble; a cluster of connected residential buildings, grouped around a raised shared courtyard. The buildings are different in height and host a variety of housing typologies, creating smaller communities within the larger whole. On the ground floor, a mixed-use programme offers active frontages and lively surroundings.
Block C5, the tallest building of the development contains a combination of Vandersanden's Billund, Wienerberger's Marziale and Avenue Smooth Black bricks, providing a contrasting, stand-out finish. Utilising traditional hand-laid brickwork and offsite prefabricated brick on soffit systems to suit a stretcher course and flemish bond pattern where required, the blend is seamless throughout the build. The brick type alternates to accentuate features throughout the façade including balconies and entrance colonnades, and a dogtooth brickwork used sporadically for a visually appealing window opening detail.
Block C4 comprises Ibstock's New Ivanhoe Cream brick for most of the building, complemented by Michelmersh's Porcelain White Smooth in the upper levels of the façade. The six flying beams on the east elevation create attractive, open-air balcony features whilst other balconies on the building are recessed and feature two-course deep brick soffits and vertical strip recessed bricks, an unusual, eye-catching feature of the build.
Finally, Block C1 also encompasses Vandersanden's Billund and Wienerberger's Marziale and Avenue Smooth Black bricks.
With the use of contrasting bricks, alternating brick bond patterns, and unusual brickwork features throughout the three buildings, the build process was complex however the close collaboration of developer Durkan, brickwork contractor Landmark and masonry support and brick slip system solution provider IG Masonry Support, the ambitious design intent of Fourpoint Architects was achieved without compromising on bespoke elements.

Sponsored by IG Masonry Support

At IG Masonry Support, we have combined experience with innovation to design and manufacture the most practical and advanced range of stainless steel masonry support products and revolutionary brick slip soffit systems for the construction industry.
We provide comprehensive technical support for all of our products. Our free scheduling and specification service offers a fast and accurate turnaround on Masonry Support, Windpost and Brick on Soffit Systems. Our experienced team of over forty structural and civil engineers offer a free design service and on-site support for a range of off the shelf and bespoke solutions.