Back to the 2023 Shortlist
Innovation
Peabody Burridge Gardens Phase 2
Sponsored by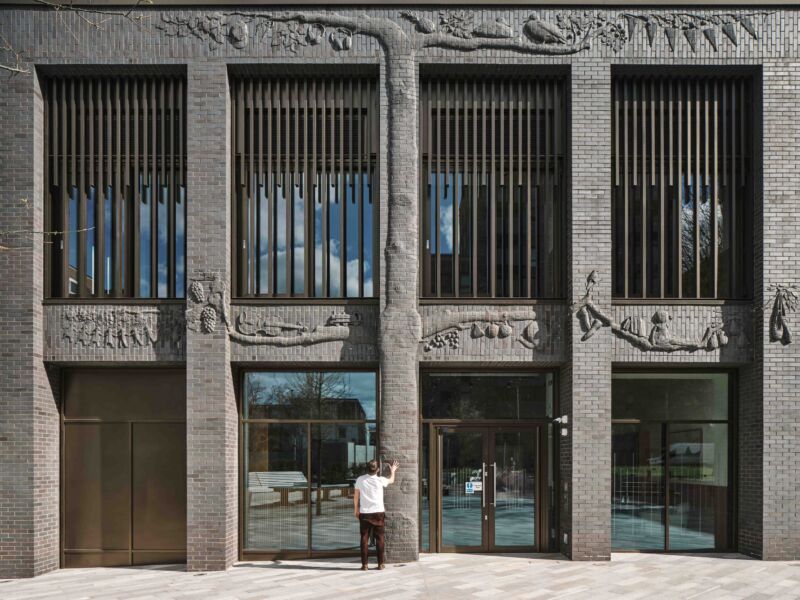 Details
Location: London
Brick Manufacturer: Ibstock Brick Limited
Brick Name: Specials Staffordshire Blue
Architect: Hawkins Brown
Contractor:  City Brickwork
About the project
The regeneration of this 1930s Peabody estate over three phases will result in 658 new homes for existing residents and newcomers, as well as over 13,000 sqm of open space. A large perimeter wall and the railway line into Clapham Junction Station previously isolated the site from its neighbourhood. Our three phased redevelopment opens up the site stitching it into the surrounding streets.
Phase 02 is made up of unique brick buildings providing 198 homes, a Community hub, Peabody offices and a large public square creating a central open space for the scheme and wider area. This phase extends a pedestrian avenue across the site to link Clapham Junction station to Wandsworth Common. Each of the buildings has its own architectural style, the external envelope formed from a different brick and articulated in its own way
A red brick building housing flats, masionettes, and a carpark beneath a landscaped courtyard, abuts a conservation area and completes one side of a Victorian terraced street. The brick, GRC and re-con stone façade reinterprets the language of the older buildings opposite.
Sitting next to a new street through the site is a building with masionettes onto the street and flats above. Protruding yellow brick headers form a pattern between re-con stone banding, upon which sit curved balconies.
The central building, housing a Community Hub and homes for older persons, is in a distinct black wire cut brick. The rational façade includes offset balconies placed to allow more opportunities for the residents to communicate to each other. On this building we have collaborated with the Sculptors Valda Jackson and Rodney Harris, and the residents to the create a seven meter high sculpted brick relief. Forming part of the building fabric "Espalier" is a tree the fruits of which are symbols of the community and what it means to be at home. This piece is a continuation of other Jackson Harris artworks in the previous phase. This commission will be continued into the next phase.
A building next to the railway creates an acoustic barrier reducing the site noise caused by trains to improving the quality of the open spaces. Acoustic attenuation panels in the flats facing the railway allow fresh air into the flats without the noise.
The repeated blocks and monotonous style of the old estate is being replaced by buildings with unique identities, regenerating the estate whilst retaining a sense of place for this evolving community.
Sponsored by Wienerberger Limited

At Wienerberger Limited we're building beyond what we know to be possible today, and rethinking how we create value for our customers and partners, our people and our communities. Our sustainability strategy 'Let's Build Beyond' looks ahead to 2030 and we have already set workstreams in motion to help us to reach our goals.