Back to the 2023 Shortlist
Craftmanship
Ilona Rose House
Sponsored by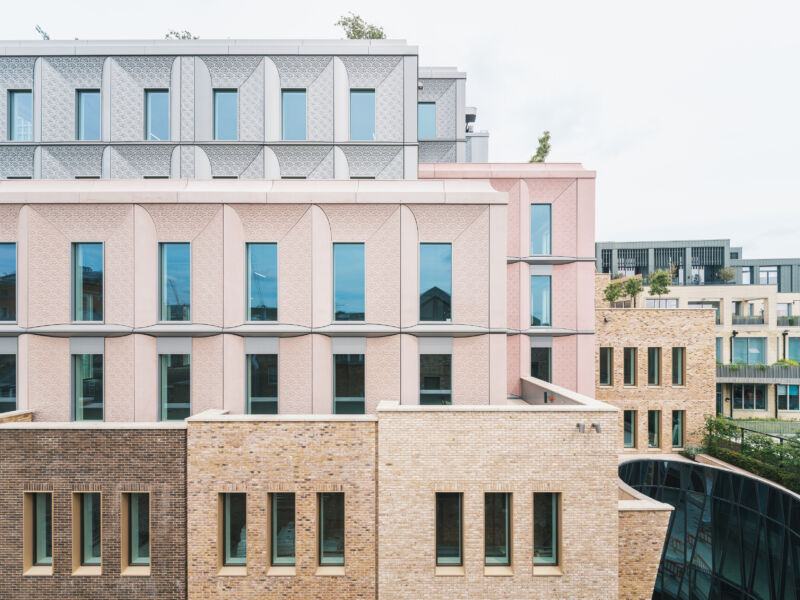 Details
Location: London
Brick Manufacturers: Wienerberger Limited
Brick Name: Wivenhoe Blend & Terca Super White

Architect: MATT Architecture
Contractor: Lesterose Brickwork Limited
About the project
Ilona Rose House is a 325,000 sq.ft new-build mixed-use project located in Soho, London. The development is on the site of the old Foyles bookshop, spanning between Charing Cross Road and Greek Street. The buildings on the site are typified by a highly decorative, rich material palette that includes pink GRC panels patterned with a moulded rose motif, patinated brass panels the form sweeping gold scoops, rose-shaped ceramic tiles in Wedgewood blue and Yorkstone paving. However our most ambitious façade treatment was our distinctive use of brickwork, involving a level of craftsmanship and precision unparalleled in brickwork projects in the UK.
The main Ilona Rose House building is spread over thirteen floors, bringing together office, retail and restaurant spaces. The upper floors include over 14,000 sq,ft of south-west facing terraces providing external amenity space for each level of office - a hanging gardens of Soho if you like. Four levels of basement accommodate the new European Post-production Headquarters of Warner Bros, maintaining the film industry in Soho for the next generation. The development includes 12-13 Greek Street, an eight-unit affordable housing scheme on top of a ground and basement nightclub, and 14 Greek Street, a Grade II listed building that has been restored to be the new home of the Soho Revue Gallery.
A large portion of the site comprises new public realm space lined with the restaurants, nightclub and gallery. This mews, known as James Court, provides both al fresco dining and a focal point for visitors to dwell on this busy route into Soho – and is the heart of our extensive use of brickwork on the project.
Our brief was to design something evocative and ambitious, pushing the boundaries of design and engineering. This is exemplified through our unique use of brickwork. Two-storey cantilevered curved brick elevations comprising three types of handmade textured stock brick wrap around over 40m of façade. A three-storey raking brick wall dramatically frames a 20m tall lightwell that buries into the depths of the building. A barrel-vaulted brick soffit requiring inventive design solutions from ourselves and the contractor team.

Working in close collaboration with Construction manager Sir Robert McAlpine, brickwork contractor Lesterose, and IG Masonry Support, we were able to achieve our ambitious design intent. The standard of fabrication and installation from supply chain to site was exceptional, with the outstanding workmanship of Lesterose's onsite team making the job of snagging very easy!
There's one very specific detail in the development that exemplifies the high standard of craftsmanship involved. An elliptical archway clad on one side with ceramic tiles, the other with brickwork, complete with a brass strip along the elliptical abutment between the two had the makings of a real mess of a detail. However through close collaboration with IG, Lesterose, and tilework contractor Szerelmey, the team produced an incredibly precise and seamless solution with IG's Brick Slip Feature Arch at the heart of it.
Sponsored by Architecture Today

Architecture Today is a multimedia portfolio spanning print, digital, social media, exhibitions and events. The Architecture Today brand is widely respected for outstanding design, authoritative writing and insightful analysis by high-profile architects and commentators.
Launched in 1989 with the backing of 70 leading practices, it continues to be owned and run by a small, independent, highly committed team with deep roots in the architectural community.