Back to the 2023 Shortlist
Craftsmanship
Becontree Estate
Sponsored by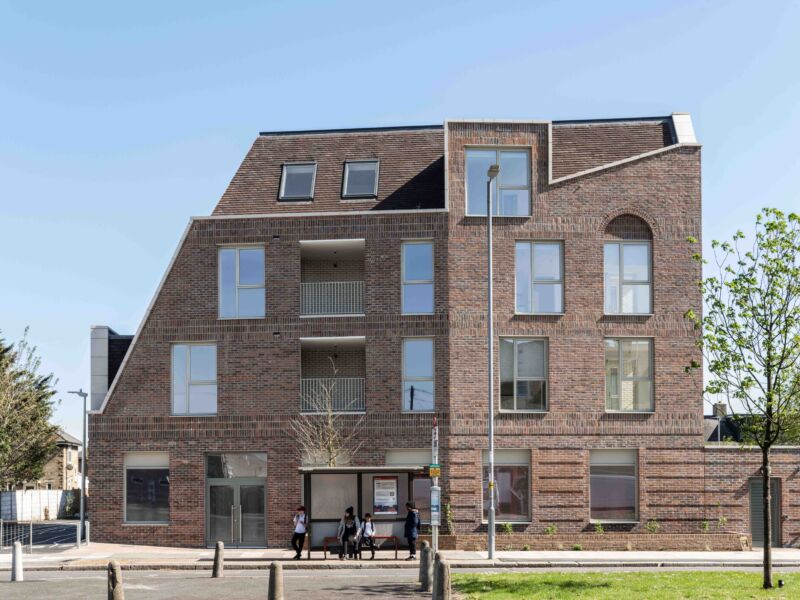 Details
Location: Dagenham, Essex
Brick Manufacturer: Michelmersh Brick Holdings PLC
Brick Name: First Quality Multi
Architect: Archio
Contractor: Daniel & Co Brickwork Limited
About the project
Archio has completed a new type of villa within the Becontree Estate, as part of a major house-building programme in the London Borough of Barking and Dagenham. Commissioned by Be First – the borough's wholly-owned regeneration company – the design is the product of deep research into the characteristics of the estate, delivering a 'gentle density' of 19 residences, and a community space, across two buildings.
Our initial brief was to provide the maximum number of affordable homes on the site of a disused community building. The brief developed in response to stakeholder and community engagement, for example, a ground floor community space was added. It emerged that one of the Ward Councillors wanted the site to be used as a park rather than housing, and so we suggested that School Way, an adjacent pedestrian cut-through, be re-landscaped into a play street as part of the development.
Becontree was begun in the 1920s under the 'Homes Fit for Heroes' pledge. It remains the largest public housing scheme in the world, and a great source of local pride. We were fascinated by its history and importance to the Twentieth Century social housing movement, beginning the project with research at the local archive. Here, we unearthed beautiful hand drawn plans illustrating the Garden City principals used to design the estate, which became a touchstone for out design strategy of creating two 'villas' on a landscaped corner.
The client feasibility proposed 17 homes on the site. Our careful approach increased this to 19 and a community space - five times the density of the surrounding estate. The historic estate is predominantly single-family housing, so we looked to other London County Council developments for clues on how to develop a denser scheme. We drew on examples like the Ossulston Estate in Camden, which echo the quality of Becontree at a civic scale.
Our designs reference the Neo-Georgian style of the estate, itself a deliberate departure from Victorian architecture, and a step towards a new kind of British public housing. Our new buildings playfully interpret details of nearby houses, such as exaggerated dormers, undulating eaves lines, semi-circular entrance arches and round windows. The building form allows us to minimise overlooking and overshadowing of neighbours and transition scale from the low-rise surrounding buildings.
There are said to be 91 House types in the Becontree Estate, and we think of 200 Becontree Avenue as the 92nd – a denser taller infill type for the twenty-first century.
Internally, rooms are generously proportioned, with a variety of characterful living spaces that provide each home with a distinct identity, which we hope will bring a sense of belonging for occupants. The resident experience is further considered by locating bedrooms away from noisy areas such as main roads and core entrances. All flats are triple aspect, flooding them with natural light, which in combination with high performing building fabric (close to Passivhaus) and underfloor heating powered by Air Source Heat Pumps, will make them very comfortable places to live.
Sponsored by Architecture Today

Architecture Today is a multimedia portfolio spanning print, digital, social media, exhibitions and events. The Architecture Today brand is widely respected for outstanding design, authoritative writing and insightful analysis by high-profile architects and commentators.
Launched in 1989 with the backing of 70 leading practices, it continues to be owned and run by a small, independent, highly committed team with deep roots in the architectural community.