Back to the 2023 Shortlist
Individual Housing Development
Globe Point
Sponsored by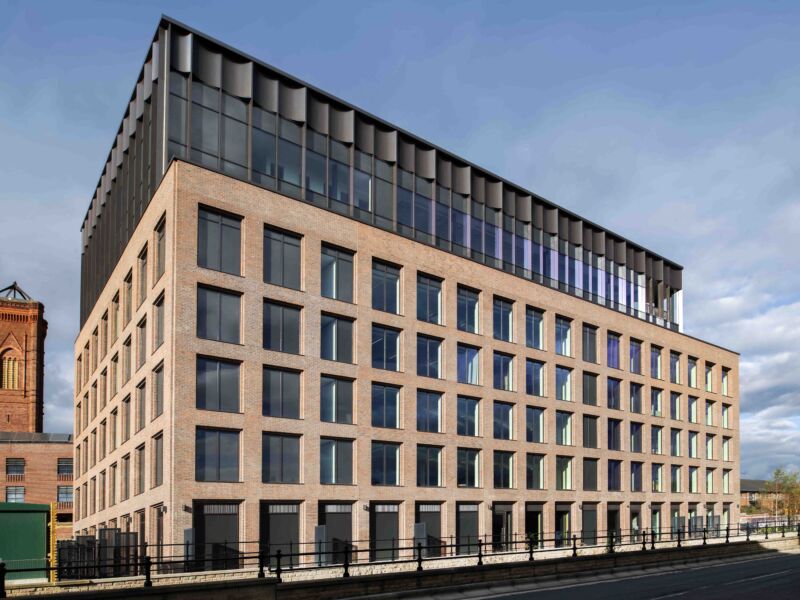 Details
Location: Leeds
Brick Manufacturer: Michelmersh Brick Holdings PLC
Brick Name: First Quality Multi
Architect: Feilden Clegg Bradley Studios 
Contractor: Thorpe Precast
About the project
Globe Point is a six-story office building located in Leeds and was designed by Feilden Clegg Bradley Studios The building is situated in a prominent location, with easy access to the nearby city centre and railway station.
Globe Point is an impressive example of sustainable architecture, with its handmade brickwork, energy-efficient features, and community-focused design. The building is not only aesthetically pleasing but also environmentally responsible, serving as a model for sustainable construction practices. Feilden Clegg Bradley Studios has demonstrated that it is possible to create a beautiful, functional building that is also sustainable and respectful of the local community and environment.
Globe Point makes exemplary use of its brickwork. The building's facade is constructed with Freshfield Lane's First Quality Multi bricks, which were chosen for their warm, earthy feel and timelessly authentic stock sand faced texture, as well as their sustainability. The bricks were made using traditional methods, with clay sourced from the Michelmersh factory in Somerset. The bricks were also chosen for their thermal properties, which help to regulate the building's temperature and reduce energy consumption.
Sustainability was a key consideration throughout the design and construction of Globe Point. The building was designed to be highly energy-efficient with an EPC A rating. The building's carbon footprint is reduced through measures such as low-energy lighting, high-efficiency boilers, carbon dioxide sensors which adjust the airflow as required, to help maximise air quality and optimise energy efficiency; all of this is underpinned by a highly efficient façade that maximises the use of Ultra High Performance Concrete, reducing weight and carbon content throughout. A building management system is also in place to monitor and control energy usage and no fossil fuels are used on site leading to a 27% lower rate of energy consumption when compared to an average building. All materials were specifically selected to be responsibly sourced. These measures have earnt the project a BREEAM excellent rating.
In addition to its sustainable features, Globe Point was also designed with the local community in mind. The building's ground floor includes a cafe and community space, which is open to the public and provides a place for people to meet and socialise. The building's location also helps to promote sustainable transportation, with easy access to public transit and bike storage facilities. The brickwork complements the rich industrial heritage of the location, whilst embracing the modern methods of construction.
Sponsored by Encon Encon Construction Products offers a huge range of construction products and accessories, from market leading brands, primarily for use in infrastructure and major building projects.
We're more than just a distributor; we play a vital role in your supply chain, and our team has all the specialist expertise you need in making sure you have the right materials for the job, together with any technical support you might need. The core product groups offered are Masonry Components, Concrete & Reinforcement Accessories, Construction Chemicals, Waterproofing, Geotechnical and Groundworking Products.
As ever, you can rely on us to be totally committed to working with our customers to deliver the very best value, whatever materials you need, at every stage of your project