Back to the 2023 Shortlist
Commercial
Blakes Hotel
Sponsored by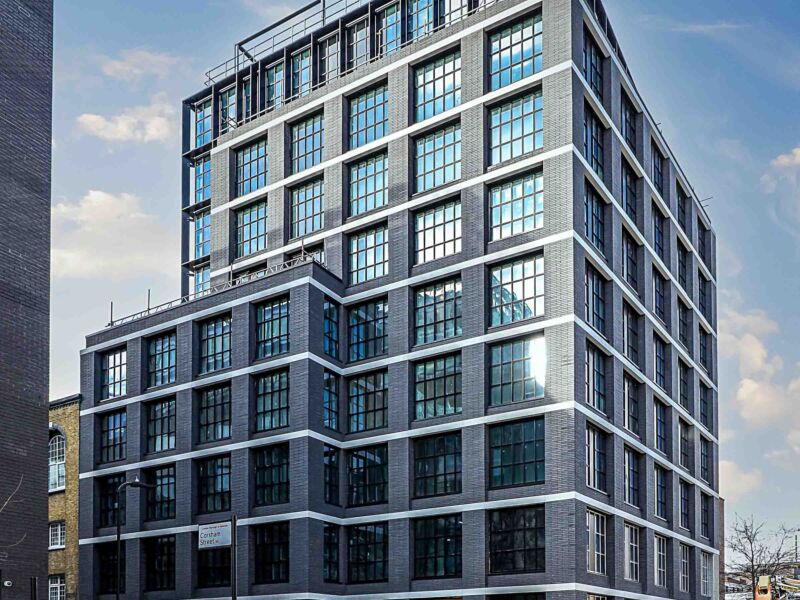 Details
Location: London
Brick Manufacturer: Ibstock Brick Limited
Brick Name: Natural Blue Linear and MechSlip System
Architect: MAITH Design
Contractor: RGB/Buildtherm
About the project
Blakes Hotel chain is synonymous with luxury and eye-catching Victorian aesthetics that encompass a modern twist. The same can now be said for its 5-star, 14 floored accommodation on Corsham Street, Shoreditch – just a stones' throw away from the famous Brick Lane. Understandable then to think that any structure in this area must carefully consider its façade with such rich brick history on its doorstep.
This consideration is what led to Ibstock Brick and Ash and Lacy to re-engineer its Mechslip technology to accommodate longer, linear bricks onto a mechanically fixed slip system, in what is believed to be a construction first in the U.K.
Linear bricks were chosen for the project for their distinctive exteriors and aesthetic qualities that help to provide a cleaner, unique, and thin slate finish appearance, with the black/blue colour choice matching the local Victorian industrial building heritage. The external envelope of the structure was overseen by RGB Group and Build-Therm, who chose to install Mechslip technology for its 'natural brick aesthetic' and 'accompanying performance levels', including flexibility, lightweight properties and A1 fire rated safety ratings.
The versatility of Mechslip not only permitted the incorporation of non-standard linear brickwork but also helped achieve the desired architectural features from the finish, to the large feature columns and non-standard corners. The longevity of the product, its streamlined manufacturing and installation processes and lack of adhesive properties all contribute positively from a sustainability factor, providing environmental benefits.
Alterations to the Mechslip technology had to be implemented to integrate the use of the linear bricks, which were just short of 500mm. The manufacturing process was altered by moving the perforation positions on the Mechslip tracks providing more stability and incorporating the linear bricks. The rails on the system needed to be reengineered at reduced centres, as there were less bricks used in the overall system due to the longer length of a linear brick compared to tradition bricks.
The result, a beautifully constructed building that boasts a visually appealing and locally fitting external envelope that includes some eye-catching geometry. The corners of the building are not 90-degree angles, so cutting, banding and installation of the bricks to turn with the angles of the building was achieved to create a pleasing geometrical outline.
The Blakes Hotel is a shining example of Mechslip's success and innovation through the use of linear bricks on a slip cladding system, that highlights architectural freedom and flexibility, as not to be limited to traditional brick modules. Through this, Mechslip truly positions itself as the smart choice of modern brick facades from a UK-based manufacturer.
Sponsored by Encon Encon Construction Products offers a huge range of construction products and accessories, from market leading brands, primarily for use in infrastructure and major building projects.
We're more than just a distributor; we play a vital role in your supply chain, and our team has all the specialist expertise you need in making sure you have the right materials for the job, together with any technical support you might need. The core product groups offered are Masonry Components, Concrete & Reinforcement Accessories, Construction Chemicals, Waterproofing, Geotechnical and Groundworking Products.
As ever, you can rely on us to be totally committed to working with our customers to deliver the very best value, whatever materials you need, at every stage of your project