Back to the 2022 Winners
Contractors' Choice
Radley College Chapel Extension
Sponsored by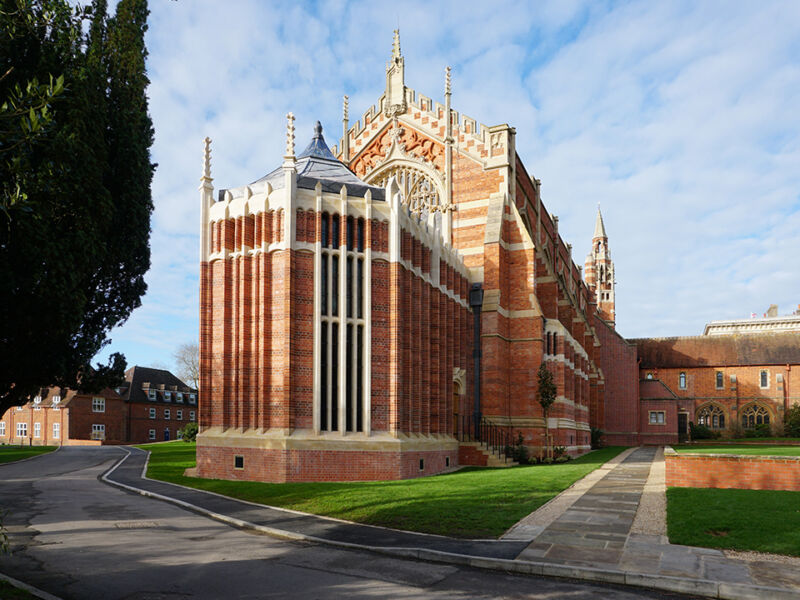 Details
Location: Abingdon, Oxfordshire
Brick Manufacturer: Northcot Brick
Brick Name: Radley Chapel Handmade
Architect: Purcell Architecture Limited
Brickwork Contractor: O.G. Stonemasonry Contractors Limited
About the project
"The overall use of brickwork and well considered, complementary materials work fully within a historic context, yet the building is still very much 21st century, vibrant and exciting"
The architectural detailing of the extension entailed intricate geometry of the brick and stonework facades. Northcot Brick worked closely with the specialist subcontractor O.G. Stonemasonry to create three bespoke brick blends in imperial sizes that matched the colour and texture of the existing Chapel, both internally and externally.
The design team decided to compliment the original chapel with a highly detailed design consisting of multiple brick specials moulded to intricate detail. The main east window had to be propped to form the opening into the new Sanctuary. Likewise, the new apse openings were propped, and steel supports installed.

Sponsored by ACS Stainless Steel ACS has led product and process innovation for over 35 years and we often forge the path where others then follow. Our proactive approach has kept us at the forefront of the industry. This has enabled our business to become the manufacturer of choice for the largest brickwork and sub-contractors in the UK.