Back to the 2021 Winners
Craftsmanship
Wolverton Hall Folly
Sponsored by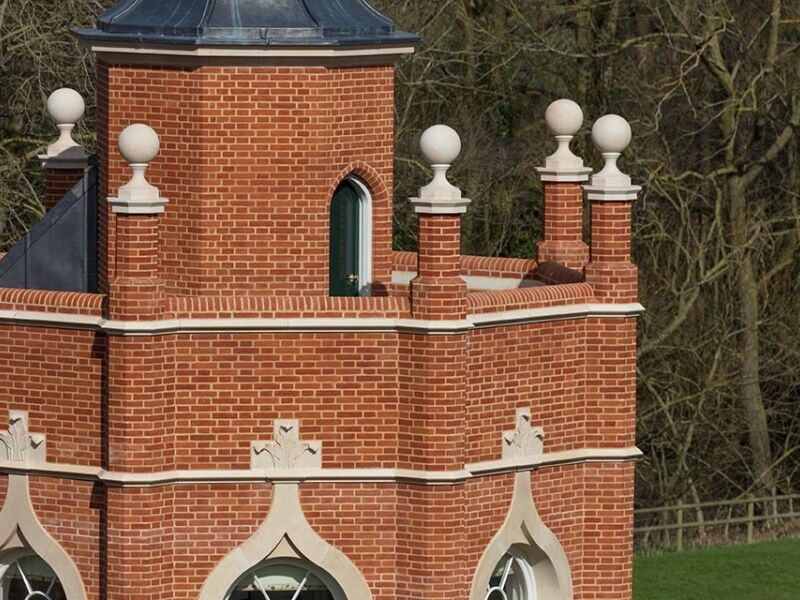 Details
Location: Worcestershire
Brick Manufacturer: Michelmersh Brick Holdings PLC
Brick: Charnwood Handmade Henley Red
Architect/Designer: Quinlan Terry Architects LLP
Brickwork Contractor: J. Rigg Construction Limited
About the project
"The folly is a tour-de-force of brick manufacture and construction, demonstrating the skill of the brick maker and the craft of the bricklayer, and that traditional design can be innovative and dramatic."
The Wolverton Hall Folly is an exquisitely executed octagonal tower, an unforgiving geometry, which required extremely precise brickwork drawings and accurate design of specials. There is almost no tolerance in the design, which is the minimum size required to accommodate the staircases. The project's success therefore hinges on the craftsmanship of the brickwork and the precision with which the brickwork was planned.
Sponsored by IG Masonry Support

At IG Masonry Support, we have combined experience with innovation to design and manufacture the most practical and advanced range of stainless steel masonry support products and revolutionary brick slip soffit systems for the construction industry.
We provide comprehensive technical support for all of our products. Our free scheduling and specification service offers a fast and accurate turnaround on Masonry Support, Windpost and Brick on Soffit Systems. Our experienced team of over forty structural and civil engineers offer a free design service and on-site support for a range of off the shelf and bespoke solutions.