Small Housing Development
Trem Y Chwarel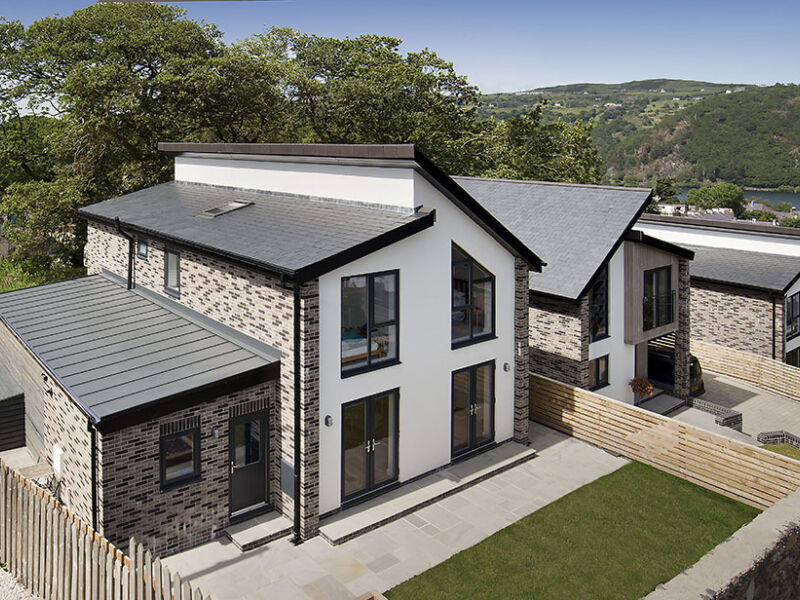 Details
Brick Manufacturer: Michelmersh PLC
Architect: Progressive Architecture
Brickwork Contractor: Copa Development Ltd


About the project
North Wales has long been regarded as the adventure capital of the UK for its climbing, walking, water sports, mountain biking and endless thrilling attractions but it is so much more. With Snowdonia National Park at its heart, the area is perhaps one of the most beautiful parts of the UK too, with the village of Llanberis at its very heart. The village sits on the southern bank of Lake Padarn at the foot of Mount Snowdon, the highest mountain in Wales. At one end of the village stand the ruins of the 13th century fortress of Dolbadarn Castle and almost everywhere you look you see history set against breath-taking scenery.
Quarry View Development acquired the village site Trem Y Chwarel (literally view of the quarry) in 2017 with outline planning permission for eleven houses. The design of those houses was for traditional local architecture with a rendered rough cast finish. We were determined on acquiring the site to build something a little bit more special and in keeping with the truly unique location. We approached Ian Whitworth of Progressive Architects to design a contemporary and stunning home which would both reference the traditional stone and natural materials so often found in the location and meld them with a contemporary and sustainable finish.
The resulting dwellings are of modern design using masonry, smooth white render, extensive angled glass and stained timber cladding. Varied roof pitches break up the mass of dwellings and both reference the mountain peaks around and avoid uniformity inappropriate for the nature of the site. Houses were deliberately laid out around landscape features including a stream and areas of woodland. The result is an attractive yet secluded development in a village centre location.
The design of each house was to complement the local pallet and the brick choice was extremely deliberate as it both referenced the ancient stone walls all around and added a sharp contemporary feel that was key to fulfilling our development vision. Previous to settling on the particular Michelmarsh Brick we ultimately chose, we considered all sorts of alternatives including natural granite & slate, however none of them rivalled the brick chosen for either its aesthetic or sustainable characteristics.