Innovation
Out of the shadows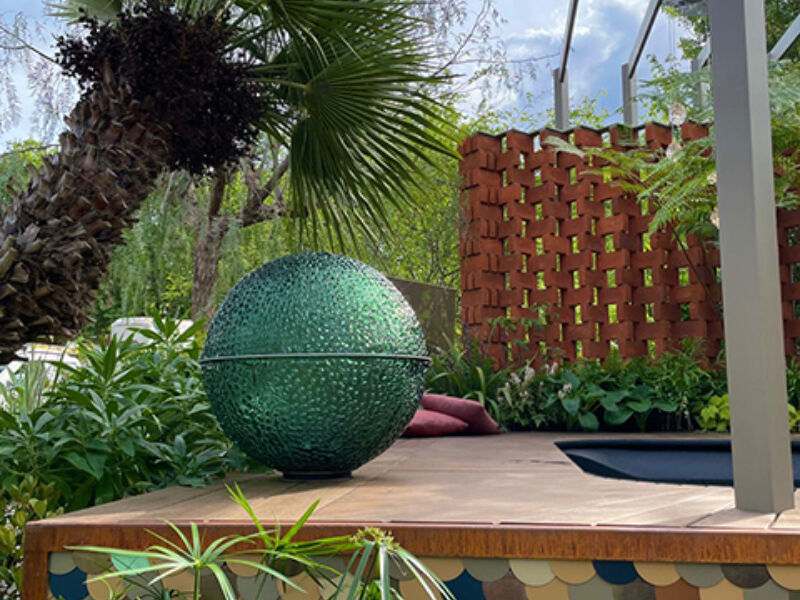 Details
Brick Manufacturer: Ibstock Brick Limited
Garden Designer: Kate Gould Gardens
Brickwork Contractor: SMF Developments
About the project
'Out of the Shadows' is a triple award winning RHS Chelsea Flower Show 2022 garden design that encompasses the use of modern bricks by Ibstock. The contemporary, wellness and lifestyle-themed sanctuary garden caught the attention of the judges with its post-pandemic inspired design which packs a punch in terms of the lifestyle it delivers, in a perfectly tranquil and harmonious way. The display garnered a lot of attention, taking home Best Sanctuary Garden, Best Construction in the Sanctuary Garden category and the sought-after Gold award from the show.
As part of the overall design, Ibstock bricks were used to develop a low wall around parts of the display. This was constructed using the company's Swanage Handmade Heather Red blend. This particular brick type is unique in that as the name suggests, it is handmade at the company's Swanage premises. With a sandcrested face, single frog and light texture, the brick is synonymous in parts of the country for first choice of façade. The brick was chosen for this project to complement the surrounding aesthetic but also as it is so well recognised, serving a reminder that anyone's garden could become a sanctuary, lending itself to the theme behind the award-wining display.
The brick itself is crafted by handmakers at Ibstock's Swanage premises who lend their own special character to develop the warmth found only in true handmade bricks that is embodied in the projects they become. Of course, clay facing bricks are a uniquely sustainable construction material too. Their long life, contribution to thermal mass and durability, together with un-matched aesthetics, has ensured that they remain as relevant to buildings of the future as they are for those of the past.
The adaptability of the Ibstock brick portfolio was on display for this project as the unique brick design was especially produced as a solid brick without its usual frog to complement the effect desired when constructing the hit and miss brickwork wall on the display.
And, of course this innovative use of bespoke handmade brickwork comes at a time when our post-pandemic gardens are being asked to work harder for us than ever, and many people finding themselves spending more and more time in them, not only growing plants, but also to provide an outdoor extension to our homes where we can relax, exercise, entertain and eat. The reality is, that so much can be achieved in our gardens through the use of brick and other materials – even if they are small – with some creativity and careful planning, as displayed by Ibstock and its partners in this instance. The project also serves a great reminder of the adaptability and choice displayed throughout the Ibstock brick portfolio, lending itself to a number of bespoke projects.