Large Housing Development
New City Road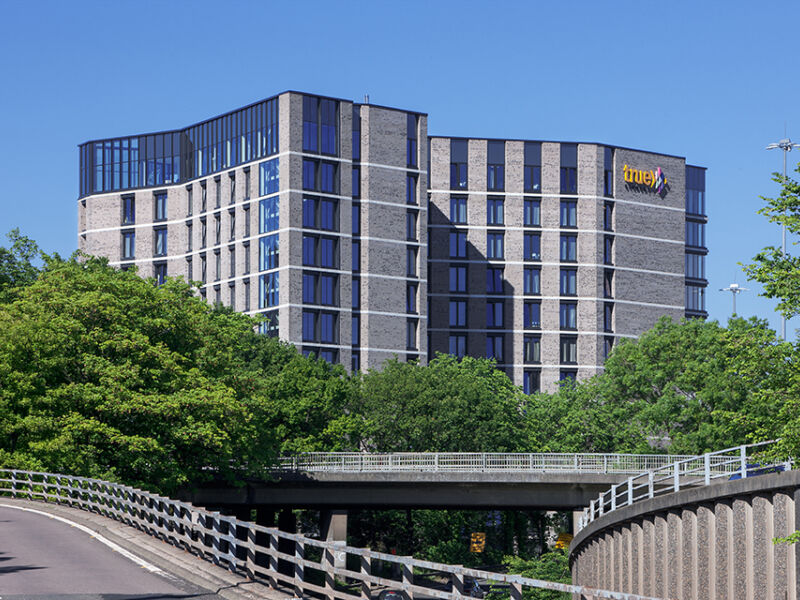 Details
Brick Manufacturer: Ibstock Brick Limited
Architect: KKA Architects
Brickwork Contractor: Lee Marley Brickwork
About the project
A building of high quality incorporating the latest sustainable materials and design, this development is located within Glasgow's Charing Cross area. It provides luxury student accommodation in the heart of the city centre within easy reach of scenic Kelvington Park and Merchant City's nightlife.
The second development under the 'true student' brand, the building rises to 13 storeys and creates a truly modern student facility with a huge array of spaces to exercise, relax, socialise and, of course, study. Overall it contains 300 rooms with a mix of individual studios and shared apartments. Students also benefit from a range of facilities including a laundry, gym and cinema.
Set in a fragmented urban environment that was calling out for regeneration, the imposing structure punctuates a key sightline along the Great Western Road corridor. The nature of the site made the build challenging and required heavy massing to mitigate noise and pollution from an elevated section of motorway that bisects the site. Because of this hostile environment - the building is surrounded by scrappy green space, disjointed housing and a messy road system - the structure is afforded a sense of scale to anchor it within its fragmented landscape.
The ground floor is dedicated entirely to the social spaces and management facilities. It features a double height grand hall along the North elevation, which is overlooked by gallery desks and a mezzanine level. This provides complexity and richness of spatial organisation. There is also a double height entrance hall to create a sense of openness and transparency to the New City Road elevation. This elevation is characterised by full height glazed curtain walling set back behind a stone colonnade.
With high quality detailing, a strong material palette, and scale executed to perfection, the New City Road student accommodation has undoubtedly revitalised its setting. Ibstock's Leicester Weathered Grey bricks, with their light texture and multi-grey colouring, are central to the overall aesthetic. The result is a sharp and elegant tall building that links the area to Glasgow's city centre.