Education
Kings College School, Sports Centre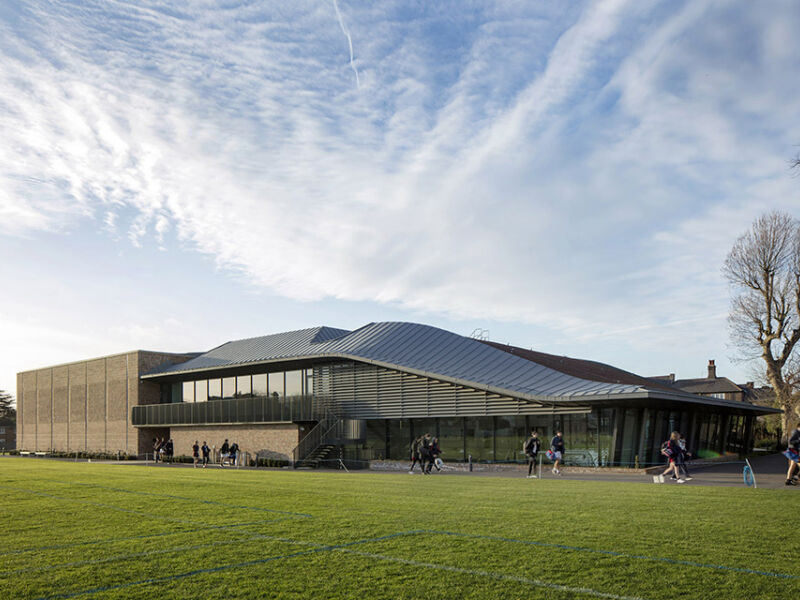 Details
Brick Manufacturer: Ibstock Brick Limited
Architect: David Morley Architects
Brickwork Contractor: Grangewood Brickwork Services Ltd
About the project
The new sports centre at King's College School Wimbledon is an elegant and sensitive addition to the campus that is a testament to the school's commitment to high quality buildings. The buildings consolidate existing disparate sports facilities into a holistic centre, accessed from a single reception area. Conceived as three pavilions, the buildings come together seamlessly, unified by a carefully considered blend of brickwork, and a sweeping zinc roof inspired by the water of the swimming pool beneath.
Knitted together with a brick colonnade, the project comprises a six-court multi-purpose sports hall and a six-lane, 25m swimming pool flanking a two-storey central pavilion housing the reception, changing rooms, viewing galleries, a strength and conditioning suite, gym and an exercise studio that can function as two workout areas via a bi-folding partition. Six new tennis courts and three cricket nets have also been added to the site.
Responding to its context, the sports centre is designed to integrate sensitively into a constrained site located in the West Wimbledon Conservation Area in close proximity to adjacent Grade II and Grade II* listed buildings. The surrounding architecture encompasses a range of brickwork shades, bond patterns, ornamental stone and a mix of clay and slate roof tiles that is successfully complimented by the new material palette, a precise blend of three different Ibstock bricks: 'Birtley Olde English Buff,' 'Birtley Olde English Grey' and 'Beamish Blend.' The bricks are laid in three predominant treatments: Flemish bond, rotated bond for the textured finish, and vertically proportioned brickwork laid in predominant soldier course. The new development is integrated with its historic setting while also introducing more modern construction materials, such as metal roof coverings and large expanses of glazing. The addition of the sculptured green roof helps the complex to blend sympathetically with the environment.