Education
Headington Hive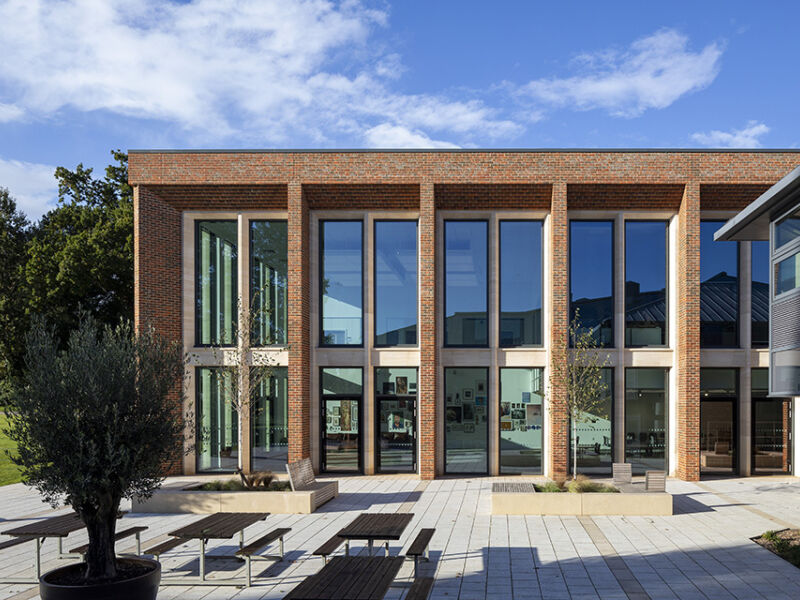 Details
Brick Manufacturer: Michelmersh PLC
Architect: Lyons+Sleeman+Hoare
Brickwork Contractor: Beard Construction


About the project
The context for this project is a powerful one, with a campus of Neo-Classical red-brick buildings from the 1930's onwards setting the tone. The Headington Hive sits behind a cluster of main school buildings fronted by the bold, 135-metre façade of Thomas Rayson and Gilbert T Gardner's main school building, completed in 1930.
Lyons+Sleeman+Hoare's brief was to fulfil 2 main roles- firstly, to provide an up-to-date venue for Arts, Design and Technological development, and secondly, to harmonise the relationship between later 20th Century buildings and the routes and spaces between them. The Innovation hub pulls together core STEM subjects with the Arts, resulting in a building whose use more than reflects its name.
The design solution was to create a building which has a very confident and ordered appearance. Following in the spirit of the original Neo-Classical buildings' stylised and formal composition, a strong colonnade concept was developed. Executed in soft red brick, but in a contemporary manner, the new building has created a very calm yet bold presence on-campus.
To pare a building back to its bare-essentials without looking austere or clumsy, is not an easy thing to do. This was achieved by combining three key features: a series of brick-blade columns, lined with stone window surrounds, framing large double-storey openings. These are topped by visually-simple, raking heads to the openings, implemented using corbelled brickwork. Larger areas of brickwork are kept simple, with the natural finish of Michelmersh Hampshire Stock Red-Multi facing brickwork, providing texture and detail.