Public
Hambleton Crematorium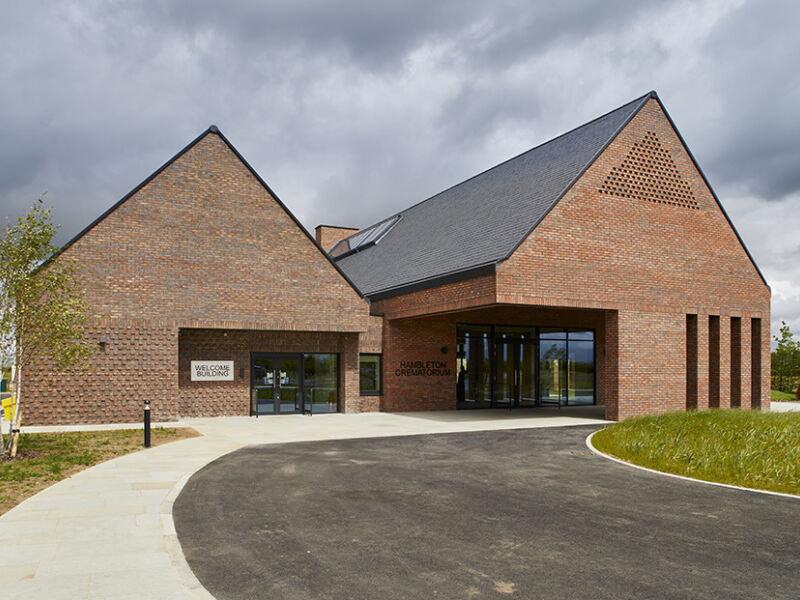 Details

Brick Manufacturer: Ibstock Brick
Architect: Benchmark Architects
Brickwork Contractor: Marlborough Brickwork Ltd
About the project
Hambleton Crematorium is a multi-million-pound development near Thirsk in North Yorkshire. Marlborough was selected as the brickwork and stone specialist contractor by Principal Contractor Willmott Dixon to build this prestigious landmark building.
The project has been named Maple Park in memory of the Royal Canadian Airforce servicemen who gave their lives during World War 2 while stationed at the airfield in the local village of Skipton on Swale. The airfield is now disused, but the buildings still stand although they are now semi derelict. To ensure the servicemen are not forgotten, not only has the site been given the name but 98 maple trees have been planted to commemorate the bombers lost on operations flown from the airfield.
The technical detailing includes alternate projecting header coursed feature panels giving texture to the facades. Single, double and triple soldier courses add to the technical complexity and to support the free-standing flat arches ACS Azure soffit system was used. This also provides a stunning 90-degree flat arch entrance to the Porte Cochere area. Isolated casings and free-standing brick pillars add further interest and complexity to the Main entrance and the flower garden. The work was constructed by Marlborough's in-house trained bricklayers who have delivered this to the highest standards.
The building elevations have been designed to enhance the concept of simple, barn structures sitting within a rural landscape. The main buildings are connected by flat-roofed links and a covered external canopy over the flower court links the main service hall to the function/wake building. Each space has a distinct function and has been designed to fall into a sequence as visitors make their way through the building from arrival at the welcome building, through to the Service Hall. A formal, processional entrance provides direct access to the Service Hall from the Porte Cochere. On leaving the Service Hall, visitors are guided through the external Flower Court where upon they can make their way back to the car park, or to the function/wake building.