Individual Housing Development
Greenacres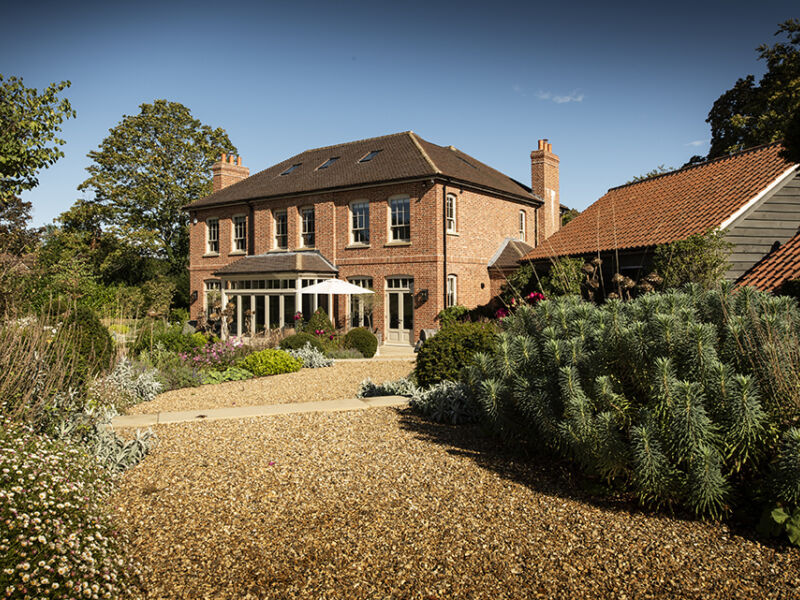 Details
Brick Manufacturer: The York Handmade Brick Company Limited
Architect: Des Ewing
Brickwork Contractor: Richard Coles Building
About the project
The house is a replacement dwelling of 4200sqft situated in the Surrey Hills which is part of The Metropolitan Green Belt. The works also included a double garage, stable block, sand school, tack/store along with extensive landscaping on 2 acre plot.
The planning process was lengthy and involved several applications to achieve the desired scheme. There were restrictions in the positioning of the buildings, their area and height.
The layout follows the traditional farm form of the area which consists typically of larger taller farm house with lower linear out buildings grouped around adjacent courtyards.
In this instance the main house comprised of a simple block with hipped roof and single store are rear return. It is oriented to face the road with a private sunny patio to the rear opening onto extensive lawns.
The building is intentionally plain and therefore relies on the texture and warmth of the choice of York brick, clay roof tiles and proportion of windows and doors.
The brickwork is Flemish Bond built in sand and cement and pointed in lime mortar with added brick dust. There is a soldier course at first floor level and radius heads to windows. There is also a flint plinth which is a material commonly used locally.
The entrance is accentuated with a sandstone surround with pilasters and curved head. This has also been built in sand and cement and pointed in lime mortar.
The windows are hardwood sliding sash painted in a soft colour which complements the surrounding brick work with square edge sandstone cills. The humble clipped eaves consist of two stepped header rows of brick.
Simple rectangular chimneys are set to the gable walls of the building with simple brick detailing.
The building has been designed to be understated and unify the traditional buildings of the country side. It relies on its tone, texture and its proportion for its charm.