Craftsmanship
Farm Street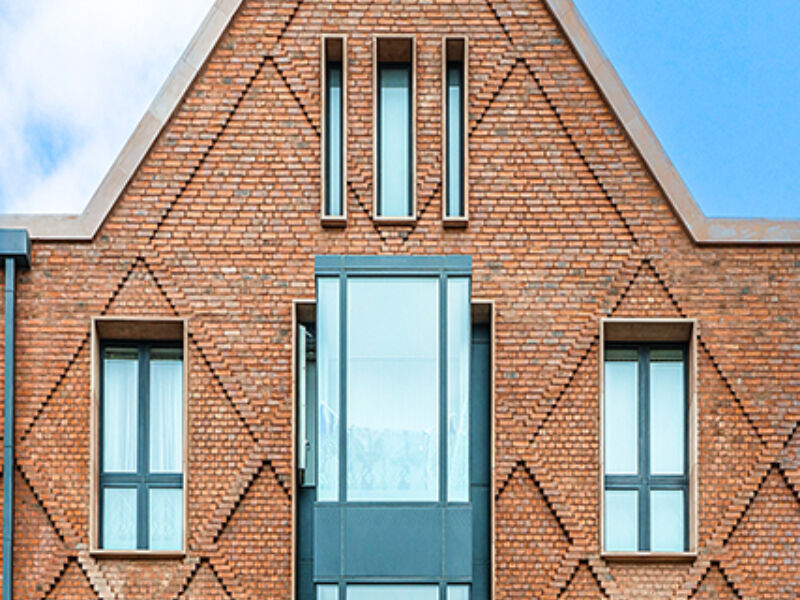 Details
Brick Manufacturers: Ibstock Brick
Architect: MSMR Architects
Brickwork Contractor: MY Construction
About the project
Brick barns and farm buildings dot the agricultural landscape around Thirsk in North Yorkshire and provided direct inspiration for the simple, textured elevations of a new crematorium in a field on the outskirts of the town.
Commissioned by Hambleton District Council and CDS Group, Hambleton Crematorium comprises a cluster of four buildings connected by flat-roofed links and a flower court with a covered external canopy.
Each space has a distinct function and is designed to fall into a sequence as visitors make their way through the site from arrival at the welcome building, into an internal waiting area and through to a service hall. A formal, processional entrance provides direct access to the service hall from the Porte Cochere. Landscaping features include a tree lined avenue, wildflower meadows, a pond and a large car park.
Benchmark Architects was tasked with creating an uplifting, hopeful and comforting space with high levels of natural light, fresh air, controlled acoustics plus views outside.
The single storey buildings are rectilinear in plan and designed to enhance the concept of simple barn structures sitting within a rural landscape.
The desire to avoid complexity resulted in pitched slate roofs and brick walls made from just two brick types, Ibstock's Birtley Northern Buff and Birtley Olde English Grey, chosen to reflect the front- and back of house functions.
The client expressed a preference for interesting brick detailing to subtly alter texture and shadows and bring refinement and quality to the scheme. Soldier courses run in horizontal bands above the cantilevered front entrance and a brick colonnade. They are also stack bonded two- or three-high above windows and doors.
One front elevation features a pattern of projecting headers, which protrude about 20mm from the facade to create a rough texture. An indented version of the pattern is arranged in a V-shape on the gable end of the adjacent building.
Strong architecture with a simple aesthetic is deceptively hard to achieve, this unfussy and adornment-free project makes it look effortless.