Education
Christie Centre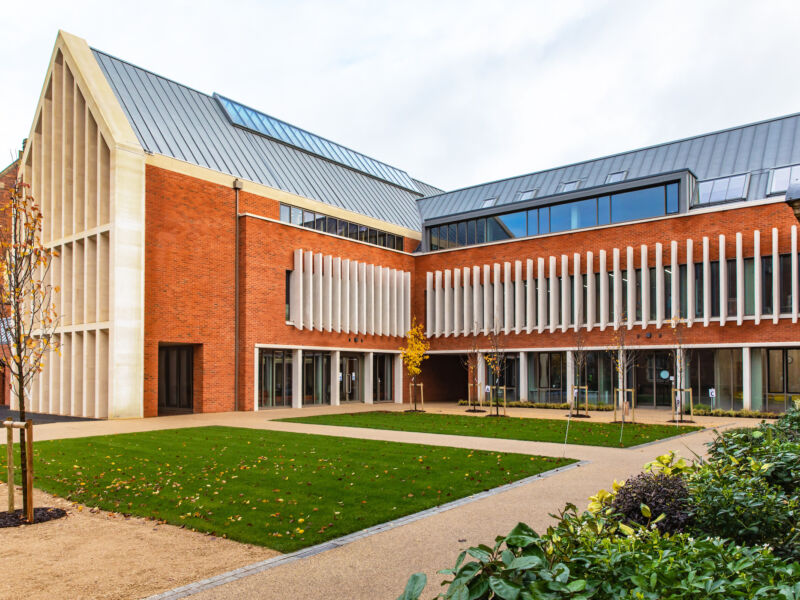 Details
Brick Manufacturer: Michelmersh PLC
Architect: TSH Architects
Brickwork Contractor: Gilbert Ash
About the project
The original design for the magnificent Quad at the heart of St Edward's School in Oxford was drawn up 140 years ago by the then Headmaster Algernon Barrington Simeon and Randolph Hotel architect William Wilkinson. Despite the School having only 80 pupils at the time, the 1880s scheme for the Quad was wildly ambitious; it remains the second largest Quad in Oxford after Christ Church.
Happily for Simeon and subsequent Heads, the School's development over the past 140 years has more than justified the original vision. The Quad is now at the heart of a growing, modern, co-educational boarding community of 730 pupils, where the academic ethos is at the forefront of contemporary pedagogical practice. The challenge for TSH architects was to complete the final corner of this grand Victorian Quad with buildings both in harmony with their surroundings and suited to the practices of a modern boarding school.
The sleek, contemporary style of the new buildings brings a focal point to the Quad, and creates a striking new aspect for the School, which will become its defining view for generations to come. The glinting apex of the Library building is a towering presence on the Quad, unequivocally signalling a new chapter in the School's history and placing academic ambition and endeavour at the heart of the School. The enveloping, oval-shaped Hall, so neatly located in the limited space available, again reflects the School's ethos in emphasising togetherness and a sense of community. TSH have cleverly created contemporary buildings which echo aspects of the existing school, by, for example, carefully matching brickwork, reinterpreting the traditional cloister or harmonising the height of new buildings with the old. Michelmersh's bricks were carefully selected to match the existing Victorian buildings with different bonds, such as Flemish bond, being employed to further reinforce this harmonisation. In addition to this, curved brickwork was carefully utilised in certain areas and additional specials were made to repair the exisiting Victorian buildings.