Back to the 2019 Winners
Urban Regeneration
Raidió Fáilte / Líonra Uladh
Sponsored by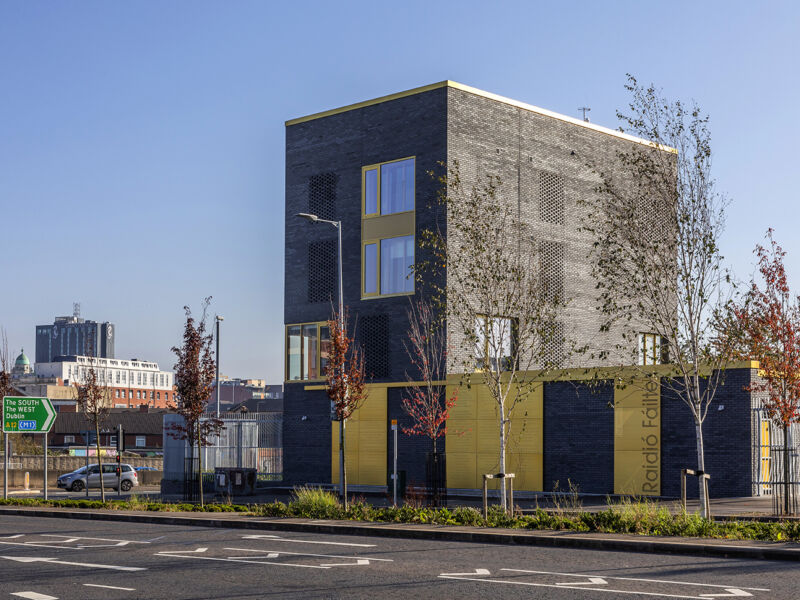 Details
Location: Belfast, Great Britain
Architect/Designer: McGurk Architects, ArdMackel Architects
Brickwork Contractor: Cleary Contracting Ltd
Brick: Wienerberger Ltd - Staffordshire Smooth Blue (SSB) Perforated, SSB Solid and, Dragfaced Chamfered Blue Paver
About the project
This new build facility provides a unique community provision. Once a tightly knit urban neighbourhood with industrial employment nearby, the new motorway stamped a deep cut through a once connected place, separating neighbour from neighbour. Raidió Fáilte affirms a new physical presence directly onto the public space of the street. In an area of historical anti-social behaviour defensive mechanisms were integrated into the building's façade such as the voided brick and gold metal screens perforated with historic verses of poetry in Irish Celtic; avoiding the need for unsightly roller shutters and enabling the building to have a much more welcoming demeanour. This project's chief benefactor is the local community of the Lower Falls and Divis area. The learning hub has been a catalyst for new opportunities on a derelict troubled spot and provides a focus for regeneration.
Sponsored by Michelmersh Brick Holdings PLC
As Britain's Brick Specialists, Michelmersh Brick Holdings PLC unites the best in clay traditions. The Group represents seven of the most recognised premium brands across the UK and Europe: Blockleys, Carlton, Charnwood, Floren.be, Freshfield Lane, Hathern Terra Cotta and Michelmersh, producing over 125 million handmade and machine-made clay bricks and pavers annually. Using modernised production methods that emphasise sustainable building solutions and adhere to the most stringent production requirements, Michelmersh guarantees high quality product standards with a low ecological footprint.