Back to the 2019 Winners
Individual Housing Development
Kenwood Lee House
Sponsored by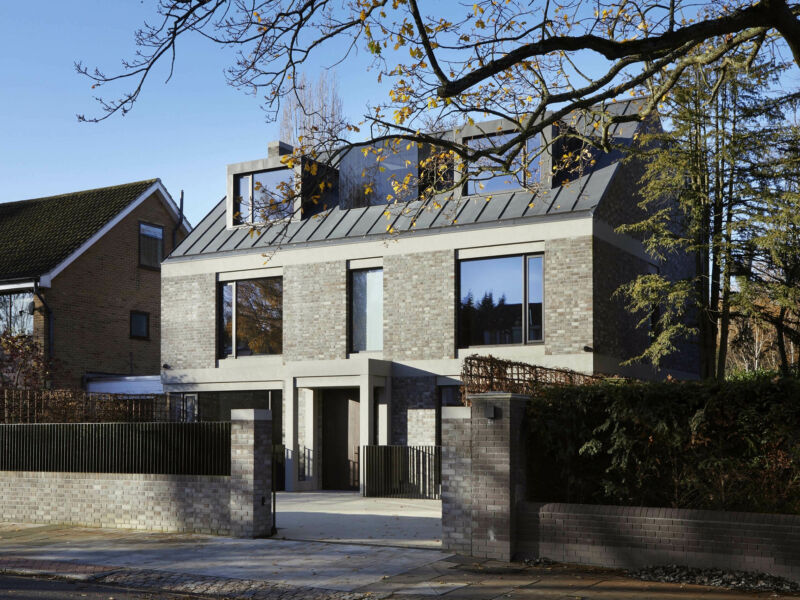 Details
Location: London, Great Britain
Architect/Designer: Cousins & Cousins
Brickwork Contractor: New Wave London
Brick: Wienerberger Ltd - Bemmel Blue Stock
About the project
Set within the Highgate Conservation Area, an area characterised by a distinct Arts & Crafts and 'Quennell' vernacular, Kenwood Lee House is conceived as a contemporary interpretation of a double fronted suburban villa. The front elevation references the traditional brick language of the street, whilst the rear is uncompromisingly contemporary and affords unencumbered glazed views towards the woodlands at the rear. Internal spaces are anchored around a board-marked concrete core which forms the top-lit triple height heart to the house. The design plays on scale and form, providing a composed sense of calm throughout. The choice and colour of brick and flush pointing in the same tone were deliberately used to homogenise the elevation to accentuate the horizontal render banding, allowing the asymmetric windows treatment to 'slip' past each other, providing for a more contemporary design.
Sponsored by Northcot Brick Northcot Brick have been quarrying clay and making bricks for nearly 100 years. The richly-coloured bricks are made by Master Brickmakers who between them have hundreds of years of experience in the highly skilled art of brick-making. The bricks they make are used in all types of building projects all over the country.